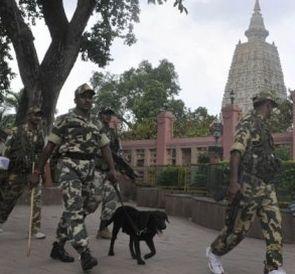 Groping in dark over the Mahabodhi temple serial blasts, security agencies have now started looking into the role right wing extremists, Maoists, Rohingya Muslims besides Indian Mujahideen in the incident.
A senior Home ministry official said the sleuths were probing every aspect related to the blast and the role of every outfit which includes right wing, left wing besides Indian Mujahideen and Rohingyas is being looked into.
The official said the IED planted at the highest seat of Buddhism was manufactured in most crude form and timers were set barely one hour before triggering the explosions.
Agencies suspect the terror module involved in Bodhgaya temple blasts in Bihar could be a new one, as the unexploded IEDs don't have signatures of bombs that were used in previous terror strikes across the country.
Sources in National Investigation Agency said a preliminary analysis of three unexploded IEDs recovered from Mahabodhi temple do not match with the IEDs used so far for terror strikes in the country.
In an attempt to nail the terrorists, NIA matches the style of making IEDs with the previous blasts to identify the module which could have executed the act.
The sources said IEDs used in Mahabodhi temple blasts did not match any previous blasts, which indicates that a new module could have been involved in the incident.
However, they said it is a very preliminary inference drawn by the investigators and further probe would clarify the picture.
Meanwhile, NIA has registered a case in connection with Sunday's serial bomb blasts at Mahabodhi temple in the historic city of Bodh Gaya which had injured two monks.