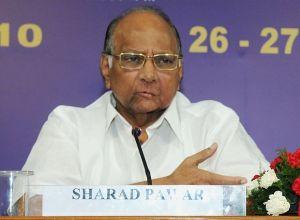 The Nationalist Congress Party has failed to register even a single win in Pune city with the Bharatiya Janata Party making a clean sweep, winning all 8 seats.
This is the worst performance ever for the NCP since its formation in 1999. Exit poll results had said that the NCP would get less than 30 seats, but current trends show that it may manage around 40.
The party, led by former Union Minister Sharad Pawar, won just 3 seats out of 21 it contested in Pawar's home district Pune.
Pawar's nephew and former deputy chief minister Ajit Pawar won his Baramati seat, Dilip Walase Patil, 5-time MLA and speaker of the last Assembly, won from Ambegaon, and Dattatray Bharne defeated Congress leader Harshvardhan Patil.
NCP even lost its Junnar seat, which was considered its stronghold.
In the Assembly elections of 2009, the NCP had held 10 seats in Pune district alone.
The NCP's attempt to thwart former chief minister Prithviraj Chavan's poll prospects did not bear fruit. Chavan won with a margin of 76,831 votes. The NCP did not field a candidate against him but supported Vilaskaka Patil Undalkar, a rebel Congress leader who fought the election as an independent.
The Congress had no major stakes in this part of the state but current trends shows that it can surpass the NCP on the basis of seats wrested in Vidarbha and Marathwada.
Ironically, it was the NCP that invited BJP to share power when it had an adjustment with the BJP and Shiv Sena in the Pune Municipal Corporation during 2007-09. It was called the 'Pune pattern' and was severed on the insistence of Congress during the Lok Sabha elections in 2009. Now it has suffered humiliation at the hands of the same party.
Complete coverage: Battle for Maharashtra