Maharashtra registered over 64 per cent voter turnout while a record 76 pc polling in Haryana, which witnessed stray incidents of violence, in the first eight hours of polling on Wednesday in the riveting contest to elect assemblies in the two states.


Voters wait in long queues to cast their votes for Assembly polls, at a polling station in Faridabad on Wednesday. Photograph: PTI Photo
Haryana created history clocking an all-time high polling of about 76 per cent, surpassing the previous best of 72.65 per cent in 1967 in the high-stakes battle among top contenders Congress, Bharatiya Janata Party and Indian National Lok Dal amid stray incidents of violence in many parts of the state.
"Haryana registered an all-time highest poll percentage in its history. The final percentage may change once all the figures are compiled," Haryana Chief Electoral Officer Shrikant Walgad said.
He said polling remained by and large peaceful barring sporadic incidents that left 32 persons, including 10 policemen, injured.
Over 1.63 crore voters including over 87 lakh women were eligible to cast their vote in today's polls for 90 Assembly seats in the state.
At the close of polling at 6 PM, there were queues of voters inside many polling stations.
Heavy polling was witnessed at places including Fatehabad, Hisar, Jind, Kurukshetra, Mewat, Rohtak, Sirsa and Yamunanagar, Kaithal while in Faridabad, Gurgaon and Panchkula districts, the polling remained moderate.
Polling was also heavy in constituencies from where top guns including Chief Minister Bhupinder Singh Hooda (Cong), Haryana Ministers Randeep Singh Surjewala and Kiran Choudhary, INLD's Abhay Chautala and Dushyant Chautala and HJC's Kuldeep Bishnoi are in fray.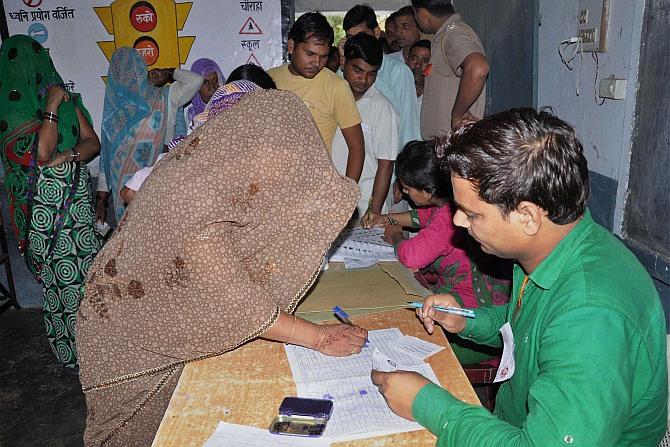 A woman signs on a register before casting votes for Assembly polls, at a polling station in Faridabad on Wednesday. Photograph: PTI Photo
In 2009 polls, turnout of 72.37 per cent was recorded. Earlier, in 1967, the highest polling of 72.65 per cent took place.
Incidents of violence were reported from various districts including Hisar, Mewat, Sirsa and Jind.
In Hisar district's Barwala, 30 persons, including 10 policemen, were injured and seven motorcycles set on fire by a mob following a clash between polling agents of two rival parties, during which stones were pelted.
Police said an argument broke out between two polling agents of rival parties in village Niyana after which the situation turned tense.
A case had been registered in this connection, they said.
There were reports of clash taking place between INLD supporters and some rival groups in Punhana in Mewat district.
Some people received minor injuries in the incident, SP of Mewat, S S Bhoria said.
Asked to comment on reports that a one-month-old baby died as she fell off from her mother's lap when there was commotion after the incident in which stones were also pelted between supporters of two groups, Bhoria said the baby was ill.
Walgad said the reported death of a child in district Mewat was not poll related.
In another incident, two persons were injured in firing during a clash between supporters of two groups in Sirsa, Sirsa SP, Mitesh Jain said.
Some anti-social elements opened fire after a minor clash occurred between INLD and BJP workers in Sirsa.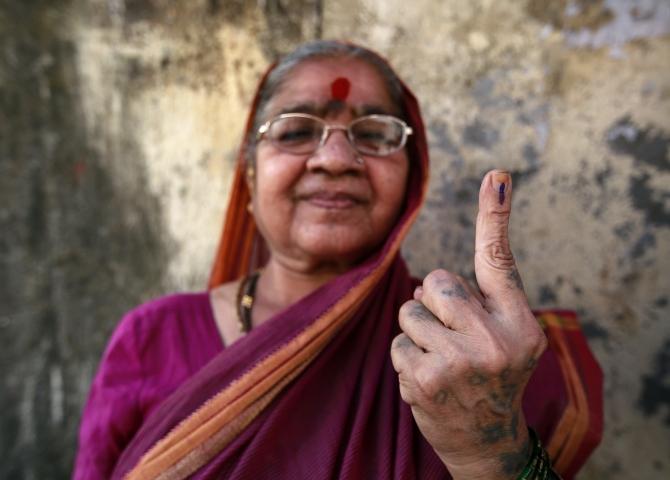 State BJP president Devendra Fadnavis, a front runner forchief ministerial post in case BJP comes to power, also cast his vote.
A woman shows her ink-marked finger after voting at a polling centre during Maharashtra state elections, in Mumbai October. Photograph: Danish Siddiqui/Reuters
A supporter from each side was injured in the incident and the seriously injured has been hospitalised.
In another incident, the window panes of a car belonging to a supporter of Haryana Lokhit Party Gopal Kanda were broken following minor clash between the supporters of HLP and INLD workers in Sirsa.
Kanda, a former Haryana Minister, is seeking re-election from Sirsa.
Amid tight security, polling commenced in all the Assembly seats at 7 am and continued till 6 pm to decide the fate of 1,351 candidates.
Counting of votes will take place on October 19.
In Narnaund, BJP candidate from the assembly segment and chief ministerial aspirant, Capt Abhimanyu alleged that attempts to capture booths were made in Baans village in the constituency at the behest of rival INLD, which vehemently denied the charge.
Abhimanyu told reporters in Narnaund that wires of web-casting camera were cut in Booth No 140 and attempt was made to capture booths.
In a separate incident, INLD's Hisar MP Dushyant Chautala, who is contesting as party candidate from Uchana Kalan constituency, alleged that some BJP supporters had clashed with INLD supporters in Uchana.
From Uchana, Dushyant is locked in a keen tussle with BJP leader Birender Singh's wife Prem Lata Singh.
Uchana Kalan in Jind district is currently represented by former Chief Minister Om Prakash Chautala, who had defeated Birender Singh, then a Congress leader, in 2009 Assembly poll.
.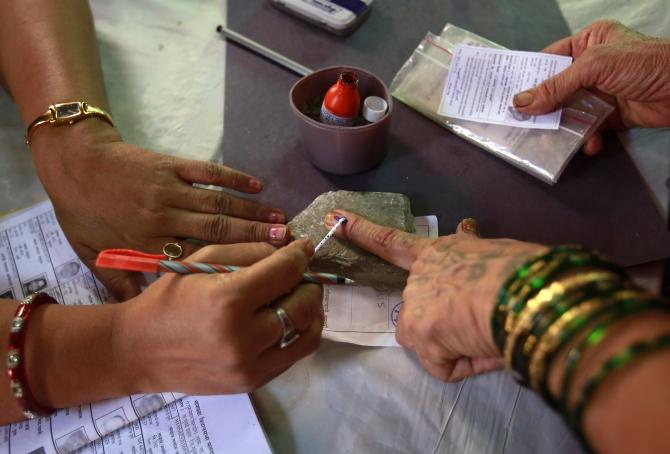 A polling officer applies ink on the finger of a voter at a polling centre during Maharashtra state elections in Mumbai. Danish Siddiqui/Reuters
There were reports of minor scuffles taking place between supporters of rival parties in some other parts of the state as well, even as glitches in EVM machines were reported from a couple of places.
Walgad said the EVMs would be kept in the strong rooms in the presence of observers before being handed over to CRPF. The candidates or their agents could also be present when the EVMs would be stored.
There was enthusiasm among the voters since early morning. Though polling started on a slow note, it gradually picked up the pace as the day progressed.
Among the candidates who had cast their votes before noon included Chief Minister Bhupinder Singh Hooda in his home district of Rohtak.
After a hectic campaign, Hooda today looked relaxed and began his day by playing a game of badminton. He also had tea at a roadside stall in Rohtak town. A
Interacting with reporters at Rohtak, Hooda claimed his Congress party was on a good footing in the state.
Gurmit Ram Rahim Singh, Chief of Dera Sacha Sauda, whose political wing had announced support for BJP nominees at all the 90 seats, cast his vote in village Begu near Sirsa in the evening shortly before the close of polling.
Meanwhile, other contesting candidates who cast their votes early included Haryana Ministers Randeep Singh Surjewala (Kaithal), one of the wealthiest woman around the world Savitri Jindal (Hisar), Geeta Bhukkal (Jhajjar), Ajay Singh Yadav (Rewari), Capt Abhimanyu of the BJP (Narnaund in Hisar district) and INLD's Naina Chautala (Sirsa), Jan Chetna Party chief Venod Sharma (Ambala) and Haryana Janhit Congress chief Kuldeep Bishnoi (Adampur in Hisar).
Union Minister Krishan Pal Gujjar cast his vote in Faridabad within first few minutes after the polling began.
A total number of 16,357 polling booths had been set up.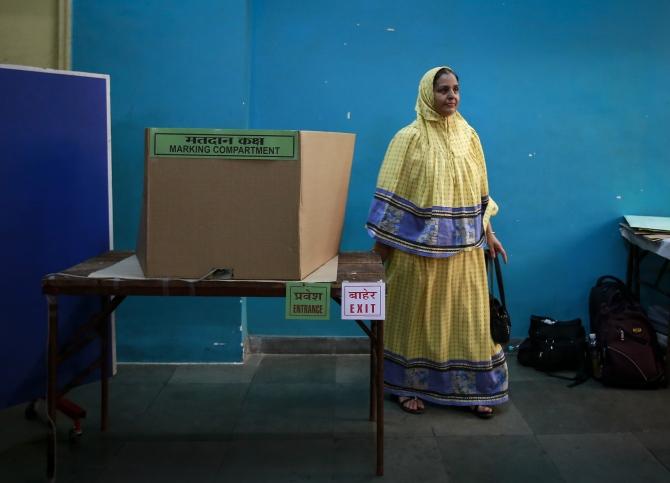 A woman leaves after casting her vote at a polling centre during Maharashtra state elections, in Mumbai. Photographer: Danish Siddiqui/Reuters
The ruling Congress is eyeing a win for the third time in a row, mainly banking on the development card while main opposition INLD is seeking to return to power after a decade of hiatus, banking on the charisma of its President Om Prakash Chautala and consolidation of the Jat vote.
BJP, which has in the past remained a marginal player in Haryana politics and played second fiddle to parties like INLD and erstwhile HVP, which later merged into Congress, is for the first time contesting on its own and is eyeing to wrest power from the ruling Congress.
Ahead of the polls, Prime Minister Narendra Modi led an aggressive poll campaign for the BJP, which is for the first time seeking to come to power in Haryana on its own.
In 2014 Lok Sabha polls, BJP had put up a good show winning seven of the 8 seats it contested out of a total 10 seats in Haryana, and also took a lead in 52 assembly segments.
Apart from the three main parties, Kuldeep Bishnoi's HJC contested in alliance with the former Union Minister Venod Sharma's Jan Chetna Party.
INLD contested in alliance with the SAD.
The kin of the three famous 'Lals' (Bansi Lal, Bhajan Lal and Devi Lal) also battled it out in the state.
The highest number of 116 women contestants was in fray this time.
While candidates of Congress and BJP contested elections from all 90 Assembly constituencies, 88 candidates of INLD, 87 of BSP, 65 of HJC, 17 of CPI-M, 14 of CPI and 297 of 'Registered Parties' including two candidates of SAD and 603 Independents were also in the fray.
The main contestants include top guns like Hooda, Randeep Surjewala (Congress), former Chief Minister Om Parkash Chautala's son Abhay, daughter-in-law Naina and grandson Dushyant (INLD), former Union Minister Venod Sharma and his wife Shakti Rani (HJCP-V), former MP Kuldeep Bishnoi, his wife Renuka and elder brother former Deputy Chief Minister Chander Mohan (HJC-BL).
A voter in Mumbai shows his inked finger after casting his vote. Photographs: Sahil Salvi
Haryana BJP President Ram Bilas Sharma and Abhimanyu (BJP), Arvind Sharma (BSP) and Gopal Kanda (HLP), who was booked in the airhostess Geetika Sharma suicide case, were also in fray.
Bansi Lal's son and former BCCI President Ranbir Singh Mahendra, daughter-in-law (late Surender Singh's wife) and Haryana Minister Kiran Chaudhary and Lal's son-in-law Sombir Singh contested as Congress candidates from Badhra, Tosham and Loharu seats in Bhiwani district.
An estimated 64 per cent of Maharashtra's 8.35 crore voters cast their ballots in a bitterly-fought election that pollsters said will throw up a hung Assembly with BJP emerging as the single-largest party but falling short of a majority in the 288-member House.
"Approximately 64 per cent polling has been recorded by 6 pm. The exact details are being worked out," sources in the office of the state's Chief Electoral officer said.
The poll, considered the first major test of Prime Minister Narendra Modi's popularity after Lok Sabha election, passed off peacefully.
Prominent among those whose electoral fate will be decided when counting takes place on Sunday include former Chief Minister Prithviraj Chavan, his deputy and senior NCP leader Ajit Pawar, state BJP president Devendra Fadnavis, Leader of Opposition in the Legislative Assembly Eknath Khadse, his counterpart in Legislative Council Vinod Tawde (both BJP), Shiv Sena leader in the outgoing Assembly Subhash Desai and his MNS counterpart Bala Nandgaonkar.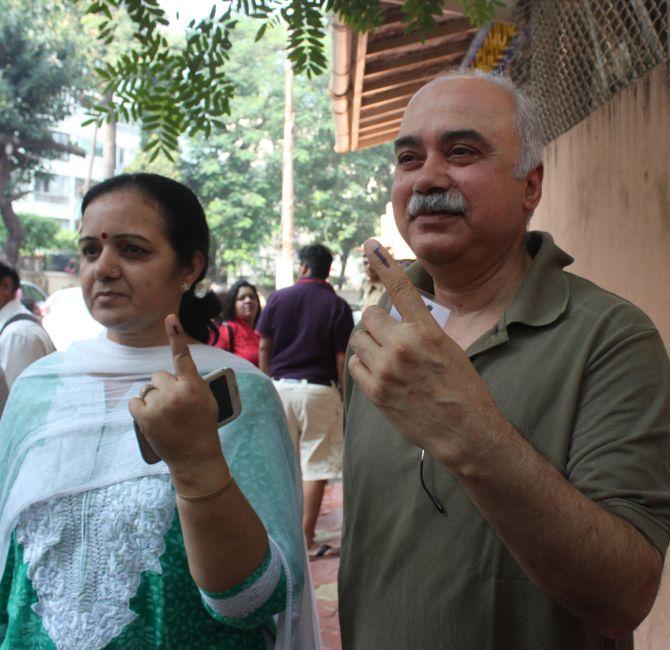 Photograph: Sahil Salvi
Polling started on a brisk note, slowed down around noon but again picked up and about 55 per cent of the electorate had cast their votes by 5 pm, officials said.
Technical problems in electronic voting machines were reported from some polling booths in Nagpur city and Wardha district in Vidarbha, and Sewree in Mumbai. Voters in a Nashik booth also complained that the electoral rolls were not in order.
A policeman on election duty was killed after being struck by lightning in Avdeghat polling station of Savner constituency in Vidarbha, where polling in some parts was marred by rains.
The election, first in over two decades without any major pre-poll alliances in place after BJP snapped its 25-year-old ties with Shiv Sena and NCP broke off its partnership with Congress after a 15-year shot at power in the state, will also test the individual mettle of the parties.
Raj Thackeray's MNS, after a drubbing in Lok Sabha poll, is seeking to emerge as X factor and the king maker in the contest where multiplicity of parties is expected to drastically reduce victory margins.
Among the early voters in Maharashtra were former Chief Minister Prithviraj Chavan, who cast his vote in Karad in western Maharashtra, from where he is a candidate, former Deputy Chief Minister Ajit Pawar in Baramati, former Union Home Minister Sushilkumar Shinde in Solapur, Leader of Opposition in Council Vinod Tawde in Mumbai and NCP MP Supriya Sule and her mother Pratibha Pawar.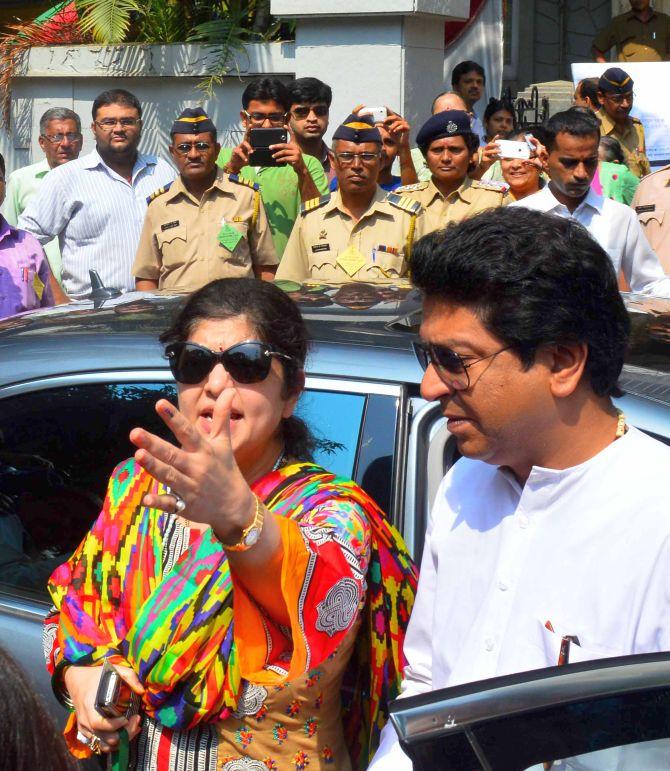 Maharashtra Navnirman Sena chief Raj Thackeray leaves the polling booth after casting his vote. Photographs: Sahil Salvi
NCP chief Sharad Pawar cast his vote in Mumbai, while Shiv Sena chief Uddhav Thackeray was joined by his wife and son Aditya .
State BJP president Devendra Fadnavis, a front runner for chief ministerial post in case BJP comes to power, also cast his vote.
Among Bollywood personalities who went to polling booths in Mumbai were Rekha, Jaya Bachchan, Abhishek Bachchan, Amol Palekar, BJP MP Hema Malini and her daughter Esha, Anupam Kher, Salman Khan and Sonali Bendre.
Cricket icon Sachin Tendulkar also cast his vote.
There are 4119 candidates in the fray in 288 seats, including 276 women. 1699 independent candidates are also trying their luck.
BJP has fielded 280 candidates Shiv Sena 282, Congress 287, NCP 278 and MNS 219. BSP has put up nominees in 260 seats, CPI 34 and CPM 19.
Notwithstanding the adverse projections, former Chief Minister Prithviraj Chavan, who led Congress' campaign, exuded confidence that the party will be voted back to power for a fourth straight term.
"There was anti-incumbency in 2004 and 2009 also but still the people chose us," he said.
With NCP predicted to lose heavily, its senior leader and former Union Minister Praful Patel said, "Our performance will be good. We will play a significant role in formation of the next government."
Shiv Sena chief Uddhav Thackeray too expressed confidence that his party will form the next government.
"People have seen Balasaheb Thackeray. They will vote for Sena. I have toured the state. There is not just a wave, there is a huge wave in our favour," he said.
Even as pollsters predicted a hung Assembly, throwing up the prospect of BJP having to look for allies to form a government, state BJP chief Devendra Fadnavis said," I am absolutely confident that BJP will get an absolute majority."
According to exit poll predictions, though BJP is expected to emerge as the single-largest party, it will fall short of a majority and will have to look for post-poll allies to have a shot at power for a second time after it ruled the state with Shiv Sena from 1995 to 1999.
With the exception of Sena-BJP's rule and a 580-day stint of Sharad Pawar-led Progressive Democratic Front government between July 1978 and February 1980, Congress has never been out of power in Maharashtra since its creation in 1960.