The health condition of former Maharashtra chief minister and ex-Lok Sabha Speaker Manohar Joshi is critical and he continues to be in a semi-comatose state, a city-based private hospital, where he was admitted two days back after suffering from brain haemorrhage, said on Wednesday.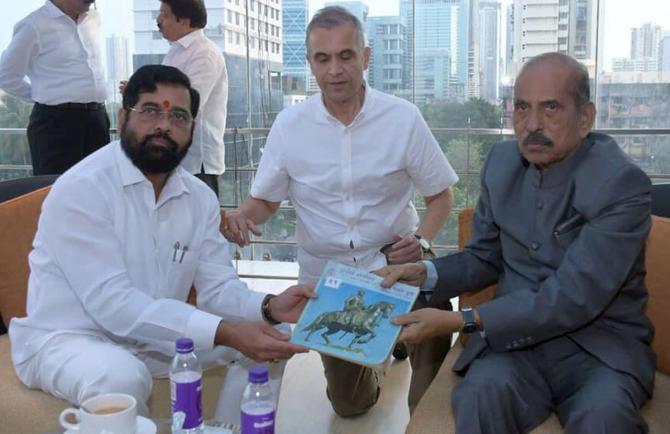 His son Unmesh Joshi also said his father continues to remain unconscious.
Manohar Joshi (85), a veteran Shiv Sena leader, was admitted to PD Hinduja Hospital in a "semi-coma state" on Monday.
In a statement, the hospital said, "Joshi is critical and semi-comatose. His brain haemorrhage is stable. He continues to be in the Intensive Care Unit (ICU), being managed medically, and his condition is being closely monitored."
In a medical emergency, Joshi was admitted to the hospital on May 22 in a semi-coma condition. He was breathing on his own and was not on a ventilator, it said.
Talking to PTI, his son Unmesh said his father is unconscious and doctors treating him have asked him to "wait and watch".
"He is unconscious after suffering from brain haemorrhage," he said.
Shiv Sena (UBT) chief Uddhav Thackeray and his wife Rashmi Thackeray visited the veteran leader at the hospital on Tuesday to enquire about his health.
Manohar Joshi was the first Shiv Sena chief minister of Maharashtra after the coalition of his party and the BJP came to power in March 1995.
He has been member of the Shiv Sena since its inception in 1966.
The former Lok Sabha Speaker had also served as the Mumbai mayor, leader of opposition in the Maharashtra Assembly, and Union heavy industries minister in the Atal Bihari Vajpayee cabinet.
© Copyright 2023 PTI. All rights reserved. Republication or redistribution of PTI content, including by framing or similar means, is expressly prohibited without the prior written consent.