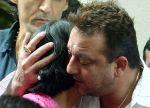 Maharashtra Governor K Sankaranarayanan has sent 60 representations and petitions received by him from various individuals and organisations, both seeking and opposing clemency for Bollywood actor Sanjay Dutt to the state home department.
In a letter dated April 4, 2013, addressed to the additional chief secretary to government of Maharashtra, home department, the Secretary to the Governor Vikas Chandra Rastogi has sent copies of all the representations received by the governor during the last few days to the state government, a Raj Bhawan spokesperson said on Friday.
Such petitions seeking pardon are in the normal course forwarded to the home department by the governor to seek its opinion.
The governor had received representations on this issue from citizens and organisations from all parts of the country. These include those sent by Justice (retd) Markandeya Katju, Chairman, Press Council of India and others.
Earlier, the governor had sent the petition received from expelled Samajwadi Party's leader Amar Singh and Lok Sabha MP Jaya Prada to the State Home Department on 28 March 2013.
At least 25 individuals and organisations from out of the 60 petitioners have opposed pardon for actor Sanjay Dutt.