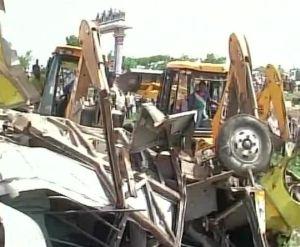 Thirteen persons were killed and 34 injured in a collision between a government bus and a cement laden lorry at T Kallupatti, about 40 km from Madurai in Saturday, police said.
The bus driver was among those killed. Police said the toll could increase as the condition of some of the passengers was serious.
The mishap occurred after the lorry driver lost control of his vehicle, rammed the bus at a junction after which it overturned, police said.
The bus was bound for Kumily in Kerala from Rajapalayam and the lorry for Thiruvananthapuram from Karur.
The injured passengers trapped between the seats were rescued by police and fire service personnel.
All of them were admitted to the Government Rajaji hospital in Madurai, police said.
Meanwhile State Minister Sellur Raju and District Collector Veeraraghava Rao visited the injured at the hospital and monitored the rescue operations at the accident spot.
The Collector later told reporters that the services of a JCB (excavator), ambulance and fire service personnel have been mobilised.
Arrangements would be made to send bodies of the deceased persons to their native places after the formalities, he said.
Meanwhile Chief Minister Jayalalithaa condoled the death of 13 persons in the mishap and expressed her sympathies with the families of the deceased.
She directed a compensation of Rs one lakh each be given to the families of the victims and Rs 50,000 to the seriously injured persons undergoing treatment.
In a statement in Chennai, she said she had asked the Madurai district administration to ensure the best medical treatment for the injured and prayed for their speedy recovery.