Spelling trouble for Tamil Nadu Deputy Chief Minister O Panneerselvam, the Madras high court on Wednesday directed an anti-graft body to complete a preliminary probe "as expeditiously as possible" into a complaint lodged against him for amassing wealth beyond his known sources of income.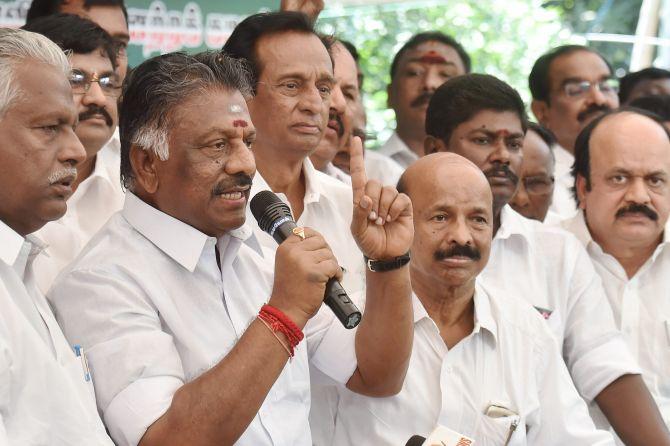 The matter pertains to a complaint lodged by the Opposition Dravida Munnetra Kazhagam member of Parliament MP R S Bharathi with the Directorate of Vigilance and Anti-Corruption in March, on behalf of his party.
When the matter came up before Justice Jayachandran, advocate general Vijay Narayan, who appeared on behalf of the state government, said as per a circular dated July 18, a preliminary inquiry has been ordered based on the information furnished by Bharathi.
Justice G Jayachandran disposed of the petitions filed by Bharathi and another one by the non-governmental organisation 'Arappor Iyakkam' represented by Jairam Venkatesh seeking a direction to the DVAC to probe the complaint.
"...The inquiry has to be completed as expeditiously as possible...," the judge said.
"In so far as other petition by Arappor Iyakkam is concerned, the information furnished will be taken note of in the case of investigation," Justice Jayachandran said.
In his petition, Bharathi alleged that the senior All India Anna DMK leader had amassed wealth by abusing his power gained unlawfully and invested the same in companies and properties either in his name or that of his "benamis".
He alleged that for this purpose, Panneerselvam had made false declarations before the income tax authorities and election officials.
Alleging that the DVAC had not acted on his complaint till date, the petitioner said the high court had already made it clear that when a complaint was given against a public servant, the vigilance department had to look into it directly and that no prior sanction was needed.
Referring to the various plots of land owned by Panneerselvam, the petitioner alleged that in his election affidavit he had not disclosed details of the plots and the income earned from them, which has to be investigated.
Land valued at more than Rs 140 crore was leased out to benamis of OPS, the petitioner alleged.
He also alleged that Panneerselvam's son was a director in many companies and they had purchased several acres of land worth over Rs 68 crore.
Bharathi sought a direction to the DVAC to register a case and investigate the complaint against the deputy chief minister.
The court had earlier asked the anti-graft body to explain why no probe was initiated even three months after a complaint was lodged against Panneerselvam.
It also sought to know why a Central Bureau of Investigation probe should not be ordered into the allegations against the AIADMK leader.