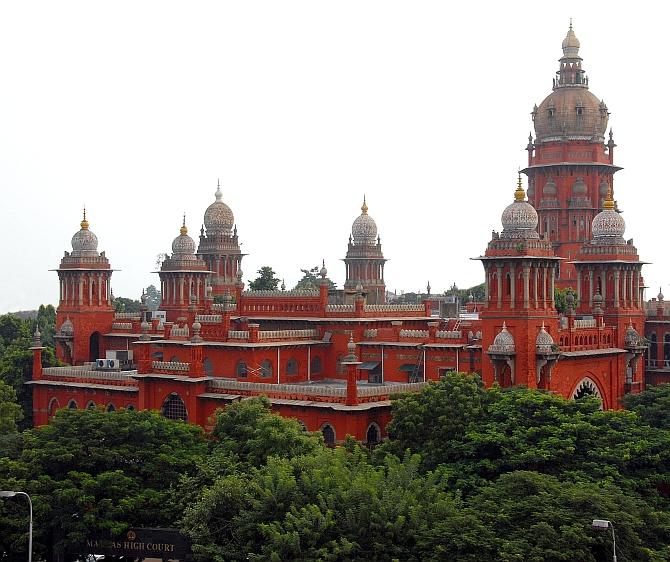 Sections of lawyers from across Tamil Nadu are holding a 'siege' protest in front of the Madras high court on Monday demanding withdrawal of new disciplinary rules, claiming them to be "draconian," even as police brought the court premises under a tight security blanket.
The advocates belonging to various lawyers' associations are seeking withdrawal of the amended rules under the Advocates Act, that empower judges to act against errant lawyers. They also demanded revocation of suspension of lawyers by the Bar Council of India.
The BCI had on Sunday suspended 126 lawyers of Tamil Nadu and prohibited them from practising in any court or tribunal in the country pursuant to its warning against indulging in court boycott and other activities.
About 1,000 lawyers congregated in locations including Raja Annamalai Mandram premises and NSC Bose Road near the court and shouted slogans demanding the judiciary to withdraw the rules.
Several protesters tried to breach the barricades put up by police on all sides of the high court to gain entry into the premises.
Due to the stir, the court premises has virtually become a fortress with about 1,000 police personnel including those drawn from Armed Reserve being stationed all around the seven entry-exit gates of the sprawling court complex.
Police personnel armed with tear gas shells, and anti-riot "Vajra" vehicles have been stationed in and around the complex. Only advocates who have a case listed are allowed to enter the court after thorough frisking.
Central Industrial Security Force, which is in charge of security for the inner precincts of the court complex has also beefed up security.
The protest has caused severe traffic congestion in the Parrys corner neighbourhood, where the high court is located.
The spill over effect is being seen in several other parts of the city including Anna Salai, with several vehicles getting stuck in the pile up.
Madras high court in May amended rules under which lawyers could be debarred from practice on disciplinary grounds. Such grounds include browbeating or abusing judges, laying siege to court halls, tamper with court records, appearing in court under the influence of alcohol.
Also, spreading unsubstantiated allegations against judges or accepting money either in the name of a judge or on the pretext of influencing him are also grounds.
Such amended rules were made part of Rule 14 of the high court by virtue of powers conferred on court under the Advocates Act, 1961.