For much of Donald Trump's presidency, Barack Obama largely abided by the convention that former presidents do not publicly criticise or attack their successors.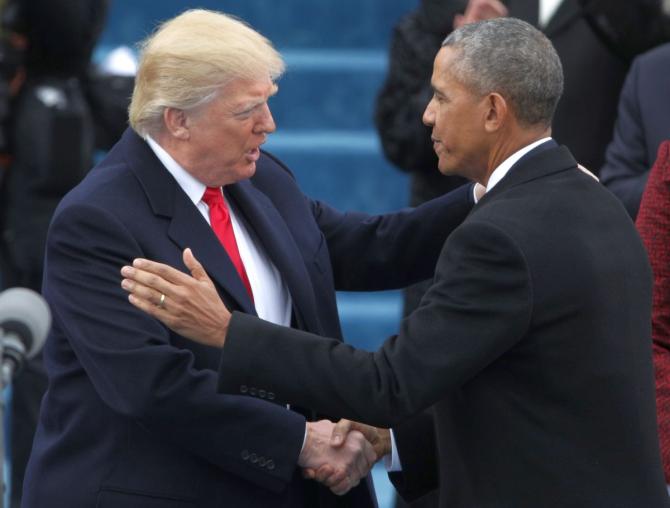 However, private insults that former US President Barack Obama uttered to donors and advisers about his successor have been revealed in a new book, The Guardian reports.
According to a new book, Obama called Trump a "madman", a "racist, sexist pig", "that f*****g lunatic" and a "corrupt mo********er".
The remarks are reported in Battle for the Soul: Inside the Democrats' Campaigns to Defeat Donald Trump, by Edward-Isaac Dovere, a staff writer at the Atlantic magazine, which will be published next week. The Guardian obtained a copy.
The reports about Obama's comments on Trump are likely to elicit a strong reaction from Trump.
Trump has long had an antagonistic relationship with Obama, from Trump's promotion of the birther conspiracy theory that sought to question the first Black US president's citizenship to his repeated efforts to dismantle the Affordable Care Act, Obama's signature domestic-policy legislation. While Obama and Trump would likely never play golf together, the details of Obama's contempt toward Trump have not been widely reported.
Dovere reported that Obama was keener on Trump becoming president than Senator Ted Cruz of Texas, mostly because he thought Trump wasn't as clever as the Princeton- and Harvard Law-educated Cruz, according to The Guardian.
As Trump's presidency went on, Obama became less charitable toward his successor.
According to The Guardian, Dovere reported that Obama had told "big donors looking to squeeze a reaction out of him in exchange for the big checks they were writing to his foundation" that Trump was "a madman."
"More often: 'I didn't think it would be this bad.' Sometimes: 'I didn't think we'd have a racist, sexist pig,'" Dovere wrote, according to The Guardian.
The Guardian said Dovere described Obama as highly displeased by reports that Trump had been talking with foreign leaders, including Russian President Vladimir Putin, without aides on the calls.
"That corrupt motherf---er," Obama reportedly said.
Like Lucky: How Joe Biden Barely Won the Presidency, by Jonathan Allen and Amie Parnes, Dovere also reports extensively on a relationship between Obama and Biden that was not as smooth as might have been thought given their eight years in power together.
Like Allen and Parnes, Dovere reports Obama's vocal doubts, shared by much of the Democratic establishment, that Biden was too old and perhaps past his best.