A French soldier guarding the Louvre museum in Paris has shot a man who tried to attack a security patrol with a machete shouting "Allahu Akbar" on Friday, police said.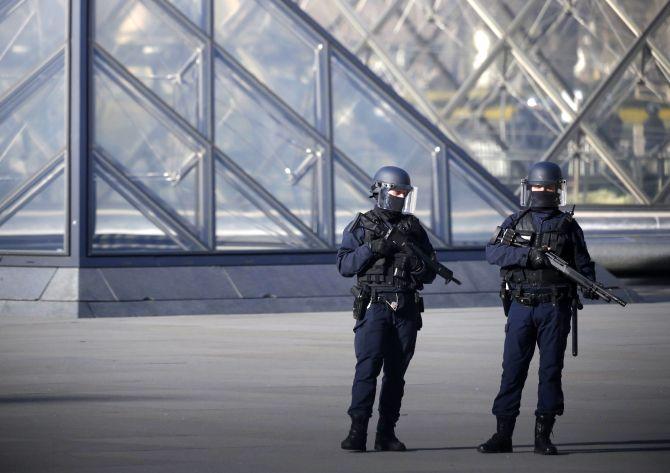 IMAGE: French police secure the site near the Louvre Pyramid in Paris after a French soldier shot and wounded a man armed with a machete after he tried to enter the Louvre museum. Photograph: Christian Hartmann/Reuters
The man, who tried to gain entry to the Louvre's shopping centre, was shot five times and is alive despite his serious injuries.
One soldier was injured in the assault.
Prime Minister Bernard Cazeneuve said the attack was "terrorist in nature". The Louvre, home to numerous celebrated art works, is the most visited museum in the world.
The shooting comes with France on its highest state of alert with thousands of troops patrolling the capital following a string of attacks in the last few years.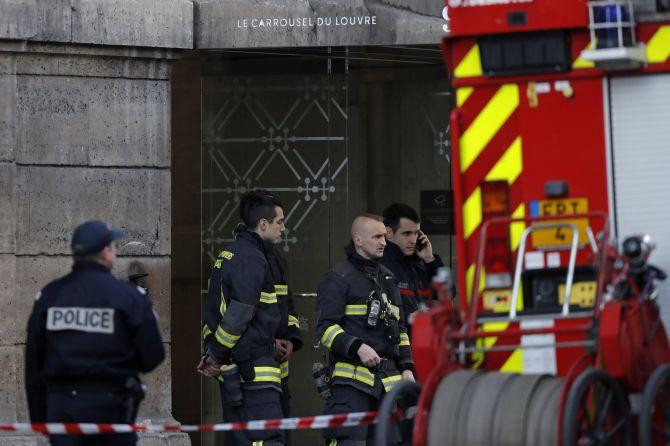 IMAGE: French police and firefighters are seen in front of the street entrance of the Carrousel du Louvre in Paris. Photograph: Christian Hartmann/Reuters
"The people who were in the museum -- there were about 250 of them -- were held at a distance and confined in secure areas of the Louvre," city police chief Michel Cadot said.
France has suffered a string of attacks in recent years, beginning in January 2015 when jihadist gunmen killed journalists at the Charlie Hebdo satirical newspaper in Paris.
Another attacker went on to kill shoppers in a Jewish supermarket, with a total of 17 people dead in three days of bloodshed.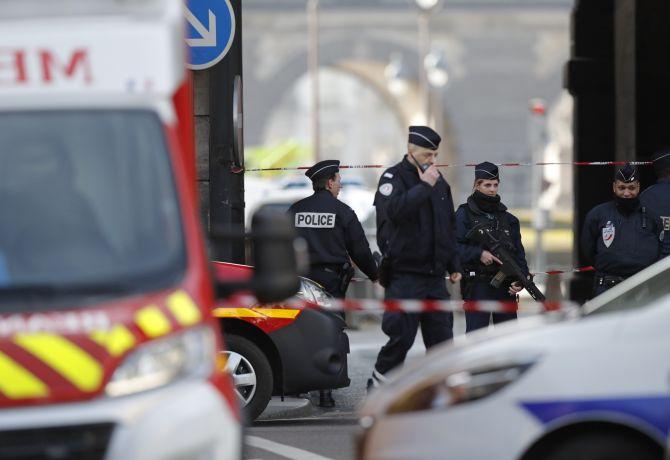 IMAGE: French police and emergency services are at the shooting site. Photograph: Christian Hartmann/Reuters
Ten months later, gunmen and suicide bombers from the Islamic State jihadist group attacked bars, restaurants, a concert hall and the national stadium in Paris on November 13, 2015, killing 130 people.
And last July, a Tunisian extremist rammed a lorry through crowds celebrating Bastille Day in Nice on France's south coast, crushing 86 people to death.
In November, French police broke up an alleged jihadist terror ring which was thought to be planning to attack Paris.