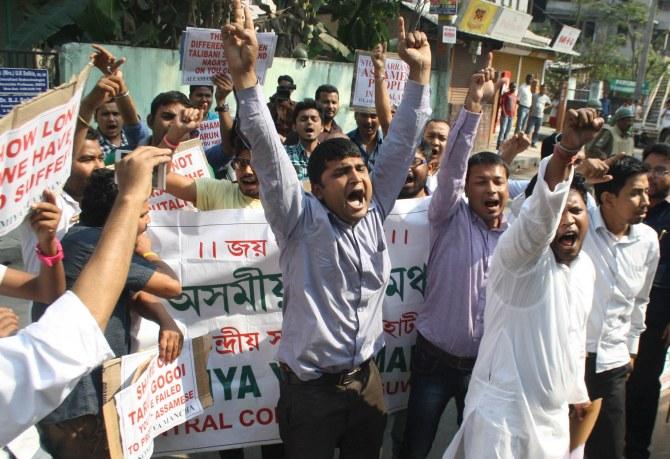 Protests raging in Assam against lynching of rape accused Farid Khan in Dimapur in Nagaland on March 5 last against the failure of Nagaland government to protect people of Assam working/staying in Nagaland.
Effigies of Nagaland government were burnt in various parts of the state on Saturday.
All good carrying trucks stopped plying to Nagaland through Assam since Saturday morning in the wake of 'chakka bandh' called by the protesting All Assam Goods Carrier Truck Drivers Union and North East Truck Owners' Association.
Meanwhile, the body of Farid Khan, the victim, was flown to Assam in a helicopter. Khan who was branded illegal Bangladeshi immigrant by his tormentors in Nagaland, hails from Bosla village under Badarpur police station in Karimganj district of South Assam.
Farid is one of the six sons of Late Siraj Uddin Khan who had served in Indian Army for two decades. His two brothers Kamal Uddin and Jamal Uddin are jawans in the army as claimed by the family members.
The All Assam Minority Students' Union who has launched protests against Farid's killing, stated, "We think this to be a part of a big conspiracy against minorities living in Nagaland. There should be a Central Bureau of Investigation probe to unearth the truth.
Meanwhile, situation in the curfew bound Dimapur town in Nagaland was described as 'tense but under control' by Inspector General of Police of Nagaland police Wabang Jamir.
The medical report of the girl allegedly raped by Khan, was sent to forensic test while her statements made before the police and doctors were being submitted before the inquiry commission.
Governor of Nagaland has appointed retired District & Sessions Judge Veprasa Nyekha as the one-man inquiry commission to probe into March 5 incident of lynching by a mob to ascertain causes and circumstances that led to the incident and to fix responsibilities for lapses, if any.
The police official said 12 companies of State Reserve Police Force, three companies of central Reserve Police Force and three companies of Assam Rifles were deployed in and around Dimapur.The government has already suspended Dimapur deputy commissioner Wezope Keney and Superintendent of Police Meren Jamir.