The issue of lynchings resonated in the Rajya Sabha on Wednesday where the Opposition alleged involvement of 'some members' of Bharatiya Janata Party and Sangh Parivar in these incidents even as the government said communal colour should not be given to such violence; while in the Lok Sabha, the Opposition accused the government of not being sensitive towards farmers' issues.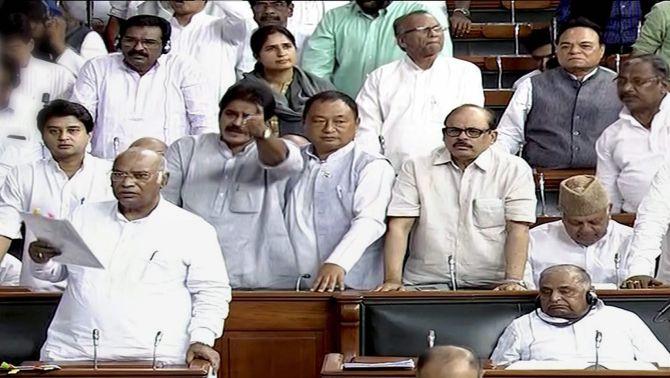 Rajya Sabha
As the House took up a discussion on the mob lynching issue, Minority Affairs Minister Mukhtar Abbas Naqvi said the government is equally concerned about the criminal incidents and everyone should speak in one voice to fight against 'such destructive forces'.
The Centre condemns such incidents, Naqvi said, adding the states should take stringent legal action against those involved.
Prime Minister Narendra Modi had also made this clear during the All Party meeting recently, he added during the debate on 'situation arising out of the reported increase in the incidents of lynching and atrocities on minorities and Dalits across the country'.
He alleged that it's a 'conspiracy' that some are trying to 'defame' the government and divert its agenda in the name of such incidents as they think they could level corruption charges on the government in the last three years.
Initiating the debate, Leader of Opposition Ghulam Nabi Azad attacked the government, saying the rise in these incidents was spreading the message of fear.
"Earlier it was done at individual level. You may not like it, all lynching is done by some members of the ruling party and Sangh Parivar," he alleged.
It is done with a basic understanding and hence no arrests been made in the incidents that happened so far.
"They should have been jailed. Even I can identify hundreds. They are known to the media," the Congress leader said.
Insisting that no Opposition party benefits from these incidents, he said but "one political party, the ruling party is benefiting. This is done for political harvest."
Urging the government to take the matter seriously, Azad said, "This nation belongs to all. Your responsibility is more. You have to take the lead. We can help in creating an atmosphere. If you spoil the atmosphere..."
He urged the ruling party to give up 'vote politics' and work towards making the country strong within to fight the external issues.
"This is not a religious battle. This is not Hindu-Muslim fight. This is everyone's fight for humanity. When our home is weak, how can we fight the external forces...Our house has always been strong. Don't break the house for votes," he said.
Azad said not a single place is safe, from Jammu and Kashmir to Kanyakumari.
"Lynchings are reported from all over. Such incidents are happening for the first time. This used to happen during the medieval age, not even during British times," he said.
He expressed sadness over the 'disturbing trend' that no one comes forward to save a person being lynched.
He, however, praised some sections of the media for continuing to report these incidents fearlessly.
Urging the Opposition to unite and speak with one voice in its fight against the destructive forces, Naqvi said: "Please don't give communal angle to these incidents. If you give, you are helping them..."
"We should together defeat and isolate the destructive forces. We should speak in one voice. ...Please speak truth on this issue," said Naqvi, who is also minister of state for parliamentary affairs.
Asserting that the government will not allow any 'destructive forces' to dominate the development agenda, Naqvi said, "We do not wish any destructive forces to affect the government's development agenda and the country's culture."
He added, "The policy of our government and the party is clear that we will not allow any destructive agenda to dominate on our development agenda."
It would be misunderstanding on the part of 'destructive forces' to think that by 'fabricating the issues', they can divert the attention, Naqvi said. "Then it would be nothing but Mungeri Lal ke Haseen Sapne (day dreaming)," he said.
"This is a conspiracy. Anyone could be doing it. I am not taking any party names. I don't want to get into it."
Stating that lynching incidents were reported in the previous government regime too, the minister said: "Whether lynching incidents happened before or now, strict legal action should be initiated against those involved."
Refuting the Opposition charge that no action was taken against those involved in lynching incidents, he gave details of arrests made in Rajasthan, Haryana, Jharkhand and Maharasthra in the last six months.
Samajwadi Party leader Naresh Agrawal said the government should bring a 'stringent law' to curb the lynching incidents.
He added that while the prime minister had made a statement that strict action should be taken against those taking lives in the name of gau rakshaks (cow protection), on the other hand, Goa chief minister made a contradictory statement.
"You are having God's name on lips and knives in your pockets," he said.
He suggested that the prime minister should call a meeting of all the chief ministers and direct them to take strict action against those indulging in lynching.
He said there have been killings in the name of religion and caste which is damaging India's image.
The SP leader also attacked the BJP government in Uttar Pradesh over setting up of 'anti-romeo' squads, saying "You are converting the state into Saudi Arabia".
He alleged that the UP government had failed in maintaining law and order as there have been several cases of rape in the state.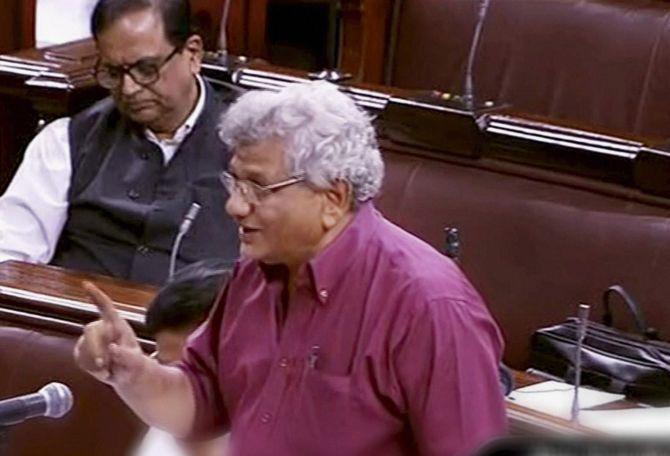 IMAGE: CPI-M's Sitaram Yechury in Rajya Sabha.

Communist Party of India-Marxist leader Sitaram Yechury cited the cases of lynchings that took place over the last two years and demanded that the central government ban cow vigilante groups and moral policing groups, which he described as 'private armies'.
The fight against vigilante groups is necessary to maintain constitutional order, he said.
During his speech, he referred to Sardar Patel's comments while banning Rashtriya Swayamsevak Sangh, mentioned Hitler's remarks on nationalism and also invoked Rabindranath Tagore.
He also cited Bhagvat Gita, saying it says all humans are equal.
The right of equality, granted under the Constitution, is 'being questioned and severely trampled upon through these incidents of lynching', he noted.
The CPI-M leader charged that it is 'Hindutava nationalism' that is giving sustenance to these groups. He stressed on stopping the cult of violence being spread.
"This is not the 'Bharat Mata' I know," he said, adding that his 'Bharat Mata' has place for people of all religions.
Yechury questioned why only the slogan 'Bharat Mata Ki Jai' is considered patriotic. "Was Bhagat Singh, who gave 'Inquilab zindabad' slogan, not patriotic?"
Yechury also referred to articles and editorials in foreign publications criticising these incidents and said, "This is your international standing today".
He said these lynching incidents are not isolated incidents of law and order but part of ideology that seeks to undermine constitution.
"Ban all these cow vigilante groups, ban anti-romeo groups," Yechury said as he rued that beef has become a parameter for religious identification.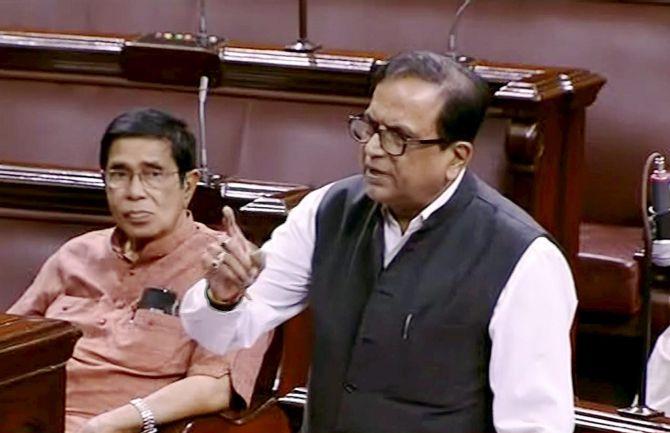 IMAGE: Bahujan Samaj party's Satish Chandra Mishra.

Highlighting that the country is a major beef exporter, he asked, "Will you tell me what I should eat and not eat...?"
Trinamool Congress leader Derek O'Brien referred to the prime minister's comment against kiling people in the name of cow-protection and said, "Empty words and generic comments will not work. Name the group. Name the individual. We are deeply suspicious."
O'Brien said the real term should be 'cow terrorism' and not cow vigilantism.
Not only the minorities and Dalits are being targeted, but even the powerful media houses and opposition parties are also being targeted, he said.
"We will not be cowed down to your political terrorism and polictical vendetta," said O'Brien while citing various cases like 'Sarada scam' in which some of his party colleagues are facing allegations.
The TMC leader charged that the government is also engaged in financial and tax terrorism.
O'Brien, whose party is in power in West Bengal, alleged that fake pictures were being ciruclated on social media by a BJP leader during the recent violence in the state.
"But polarisation will never happen in West Bengal," he added.
Concluding his speech, he appealed to all Opposition parties to join hands to fight BJP. "We will get GST - 'Growing Strong Together'.
Lok Sabha
In the Lok Sabha, the Opposition demanded loan waiver, better minimum support price and criminal cases against those responsible for death of farmers during agitation in Madhya Pradesh recently.
Initiating a discussion on the 'agrarian situation in the country', Congress leader Jyotiraditya Scindia said the condition of farmers has deteriorated and the number of suicides have increased under the present government.
"This government is not sensitive towards the issues of farmers. Prime Minister Narendra Modi immediately tweets at global disasters but he has not tweeted anything on the killings of farmers in Mandsaur," he said.
He said even the Agriculture Minister has not visited Mandsaur 'as he was busy doing yoga with Ramdev baba'.
He said farmers are facing problems and are in a state of despondency, not only in Madhya Pradesh but in other states too, including Uttar Pradesh and Maharashtra.
"This despondency is there in every nook and corner of the country," he said.
He said the government is talking about smart cities and building high rise buildings but those will not stand with weak foundation.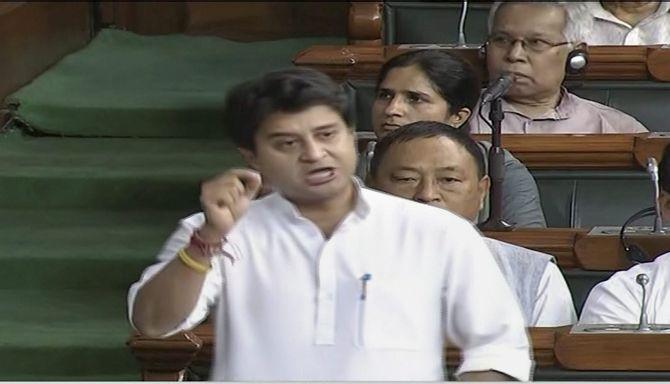 IMAGE: Congress' Jyotiraditya Scindia in Lok Sabha.

Scindia said that in its election manifesto, the BJP had promised to double farmers' income and implementation of Swaminathan recommendations, but they are not doing anything.
"Today's reality is that farmers' are suffocating. Two hands are required to suffocate a person and here one hand is increasing input cost like power and fertiliser and other one is no increase in minimum support price (MSP)," he said.
In the last three years, he said, agriculture sector has recorded a growth of only 1.7 per cent while during the last three years of the UPA regime, the growth rate was 3.6 per cent.
Intervening, Agriculture Minister Radha Mohan Singh said Scindia) was 'misleading the House'.
He said in 2016-17, the sector grew by 4.9 per cent. The government has promised to reduce the input cost of farmers, Singh said.
Scindia said after implementation of Goods and Services Tax (GST), prices of fertiliser, tractor and equipment have increased.
Diesel prices during the United Progressive Alliance regime was low even when the global crude oil prices were $125 per barrel, he said adding during this government oil prices have down to $55 per barrel but diesel prices in the domestic market is high.
In countries like Pakistan and Sri Lanka, diesel prices are lower than that of India, he added.
"In whose pockets, these high taxes are going? This is 'suit boot ki sarkar'," the Congress leader said.
Today farmers are forced to throw their tomatoes, onion and potatoes on roads, he said, adding soon milk would also be spread on roads.
He also said that prices of several agri produce like grapes, groundnut and cotton have declined significantly.
"Only 60 per cent farmers gets MSP and 40 per cent are forced to sell their produce at below MSP. Middlemen are enjoying," Scindia said.
He said the Prime Minister promised that after demonetisation, people would not stand in queues, but in vegetable mandis, one can see long queues of farmers.
He also alleged that government is not settling payments of farmers under the Fasal Bima Yojna.
During UPA's regime, Rs 72,000 crore worth of farm loan was waived and now also states like Karnataka and Punjab have waived loans of 22 crore and 10 crore farmers respectively, he said.
"Today, this government is saying that we will not waive farm loans," he said and asked, "if farmers are not demanding loan waiver, then why they are committing suicide?"
He placed five demands with the government which include farm loan waiver, minimum support price as per the recommendations of Swaminathan committee and criminal cases against those responsible for killing of farmers in Mandsaur.
He also asked the government to resolve issues related to Fasal Bima Yojna and irregularities in mandis.
"The Prime Minister says that everything is fine in the country but people here are lynched in the name of cow vigilantism," Scindia said.
This government came to power with the support of farmers's votes but now they are suppressing them, he said.
Referring the recent agitation in Mandsaur district of Madhya Pradesh in which six people were killed, he said, 'when the farmers approach the government with their problems, they are sprayed with bullets'.
Farmers were killed and they were also put behind bars and during such times, no minister visited the state, he said.
Blaming Madhya Pradesh Chief Minister Shivraj Singh Chouhan for the plight of farmers in the state, Scindia criticised him, saying during the recent agitation, he sat on fast instead of addressing the grievances of the protesters.
He said farmers were called to Bhopal, all the way from Mandsaur, and it was conveyed to them that they would get compensation only when the chief minister ends his fast.
Intervening, Parliamentary Affairs Minister Ananth Kumar said whatever the Congress leader is alleging, he should authenticate all that before the House. Otherwise, those remarks should be expunged, he urged the chair.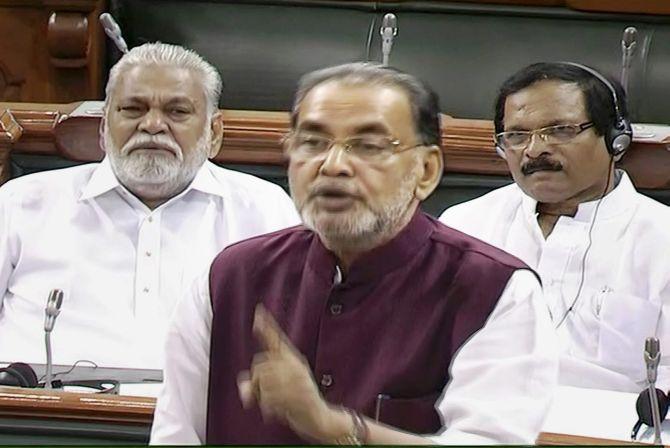 IMAGE: Union Agriculture Minister Radha Mohan Singh.

Scindia, while attacking the ruling side, claimed that one of members had once described Nathuram Godse as a 'patriot'. A minister had said that removal of Mahatma Gandhi's picture from the KVIC calender and printing Prime Minister Narendra Modi's picture has helped in pushing sales, he added.
Vijendra Singh (BJP) demanded for a special session of Parliament to discuss all the issues related with farmers.
Intervening, Speaker Sumitra Mahajan said, "One day, I would orgainse such session...we are politicians. We know about the issues of farmers."
Singh also suggested ways to help farmers get better prices of perishable items.
He said such produce can be supplied to defence and para military forces.
Talking about the MS Swaminathan report, he said, "Swaminathan is not a Bramha (God). As a farmer, I too have not agreed to all his recommendations. Farm loan waiver is not a permanent solution. We need to find ways so that farmers can not become indebted."
Kalyan Banerjee (TMC) said that farmer killing and suicides have become a national issue today.
"Of all suicides in India, 11.2 per cent are farmers suicide," Banerjee said.
As per the data of the national crime bureau, in the last three years, farmer suicide has increased in states like Maharashtra, Telengana, Andhra Pradesh and Madhya Pradesh.
He said bankruptcy and indebtedness are the most largest reasons for farmers suicides.
"Farmers rights has to be considered in a respected manner. It is a serious and emotional issue," he added.
Bhartruhari Mahtab (Biju Janata Dal) asked the agriculture minister to look at three main issues - Fasal Bima Yojna, MSP mechanism and loans given by financial and non-financial institutions.
"There is an unrest through out the country...promises made for farmers should be fulfilled," he said, adding farmers are feeling cheated and betrayed after demonetisation.