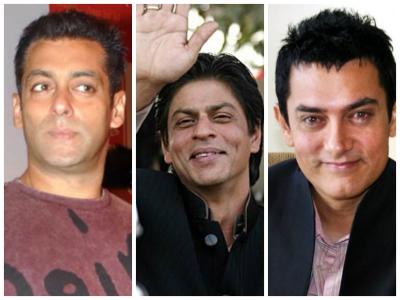 Why are Bollywood A-listers shying away from the election campaign?
Election 2014 may have a very high celebrity quotient, what with assorted actors joining the political bandwagon, but so far there has been no sign of A-listers like Shah Rukh Khan, Aamir Khan or Salman Khan.
But it's not for want of trying.
Leading ladies like Priyanka Chopra, Kareena Kapoor Khan, Anushka Sharma and Deepika Padukone were approached to make brief appearances on the campaign trail, but they turned it down.
These stars feel getting mixed up in politics, especially in such surcharged times, could prove detrimental for their careers.
This is not to say the Khans and others don't have political leanings, it is known they do. It is just that they do not wish to make it public, yet.
Regardless, the Congress, BJP and Aam Aadmi Party have lined up a number of Bollywood stars, ex and current, to take on the high and mighty.
Other than old-timer star candidates like Shatrughan Sinha, Hema Malini, Raj Babbar, Jaya Prada, Chiranjeevi, Ramya, Prakash Jha and Manoj Tiwari, 2014's star attractions include first-timers like Nagma, Gul Panag, Moon Moon Sen, Mahesh Manjrekar, Babul Supriyo, Ravi Kissan, Bappi Lahiri and Kirron Kher.
Apart from those in the fray, Bollywood will also be out on the stump. Former MP Govinda, Farah, Raza Murad, Jaya Bachchan, Zeenat Aman and Raveena Tandon are some of the names floating around who will address public meetings.
Yesterday, Sheela said: What's playing on our leaders' minds
Yesterday's Gupshup: Chandigarh's date with dimples