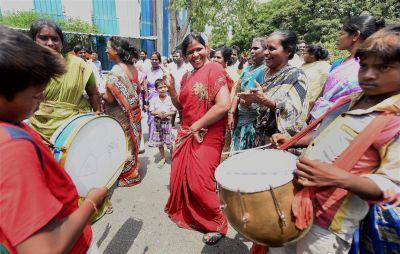 For the first time after the 1991 Lok Sabha elections, the Dravida Munnetra Kazhagam will not have its representatives in the Lower House and the similarly Congress will have no nominees from Tamil Nadu after 1998. The ruling All India Anna DMK bagged 37 out of the 39 seats in the state, with the Bharatiya Janata Party winning one seat and its alliance partner the Pattali Makkal Katchi winning one.
The DMK has been part of almost all the regimes at the Centre starting from Deve Gowda's Cabinet of 1996, barring a brief hiatus during 1998-99 when the All India Anna DMK was part of the Bharatiya Janata Party-led National Democratic Alliance.
The party suffered worst defeats in 1989 and 1991 Lok Sabha elections and could not manage to win even a single seat. From 1962 to 1984, the DMK has always had representatives in the Lok Sabha though the number varied.
If it won 25 seats in the 1967 polls heading a front of several parties including Rajaji's Swatanthra Party, it had its low in 1984 when it could win only two seats. Now, after 1991, the DMK has failed to win even a single seat.
Ironically, dismissing both "Modi and Lady (referring to Chief Minister Jayalalithaa) wave," DMK leader Stalin had said it was his "daddy's wave," during electioneering in TN.
Similarly, the Congress, which managed to win three seats even during a wave against it in 1967, could not win a single seat in 2014 polls like the 1996 and 1998 parliamentary elections.
Also, the Communist Party of India and the CPI-Marxist will have no representative from Tamil Nadu after a long time. In 1999, the CPI did not win a seat and the CPI-M could not win any seat in 1996. In 1991, both the Left parties could not win any seat. In 1998, while the CPI managed to win a seat, the CPI-M drew a blank.
Image: AIADMK workers celebrate their party's spectacular performance in the Lok Sabha elections from Tamil Nadu. Photograph: PTI Photo.
© Copyright 2021 PTI. All rights reserved. Republication or redistribution of PTI content, including by framing or similar means, is expressly prohibited without the prior written consent.