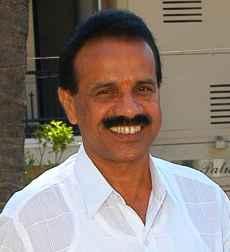 Former Karnataka Chief Minister Sadananda Gowda will battle it out against Congress strongman Narayanaswamy in this IT hub constituency of Bangalore North, which is all set to vote on development, infrastructure issues. Vicky Nanjappa reports.
Despite all the attention on the high-profile Bangalore South constituency which is witnessing a faceoff between former Infosys cofounder Nandan Nilekani and sitting Bharatiya Janata Party MP Ananth Kumar, one cannot ignore the interesting contest at hand in the Bangalore North seat, also regarded as the next IT hub after its southern counterpart.
Former Karnataka chief minister Sadananda Gowda, also known as the 'smile politician', is the BJP contender from Bangalore North who will be facing former MP Narayanswamy, the Congress candidate. Narayanswamy was with the Janata Dal-Secular and crossed over to the Congress.
The Congress had a different approach when it came to selecting candidates from this constituency. They followed the American style of primaries -- a key initiative of party vice president Rahul Gandhi -- to select their candidate.
Narayanswamy defeated Indian Institute of Management Bangalore professor Rajeev Gowda in this race and now he battles Gowda.
On the other hand, Sadananda Gowda, despite being the former chief minister, holds the "outsider" tag in Bangalore North. He has earlier contested from Mangalore and then Udupi-Chikmagalur, the latter which he had to give up when he was appointed as the chief minister by ousted strongman B S Yeddyurappa.
There was much speculation regarding Gowda's candidature from Bangalore North as none expected that he would leave his home constituency in the first place. However, the talk is that he sensed a defeat in Udupi-Chikmagalur which has a negative BJP wave and hence opted for this constituency.
Bangalore North was considered to be a safe seat for him since it's largely believed that urban areas have always preferred the BJP, and the fact that 'Modi wave' has been a hit amid urban voters.
Meanwhile, Narayanswamy, who will be his direct fight, is not worried. "I have experience of contesting from here and Gowda is an outsider, which will go against him. Gowda knows that the campaign here is different. He cannot undertake the normal style of campaigning as he would have done in his earlier constituency," Narayanswamy tells Rediff.com.
"Let the Congress call me an outsider. That hardly even matters to me. I have a million dollar smile and I have worked well when I was the CM which is good enough to get me the votes. There is a negative Congress wave across the country and even in the state the party has done nothing after it came to power," Gowda responds.
He also goes on to add that he never made assurances during any of his campaigns and he believes in working.
On the battle field there are few things that would work for the BJP. The 2009 Lok Sabha election candidate, D B Chandre Gowda, is quite respected here and has a clean image. He was not considered for the post this time around due to his poor health and age.
The residents of Bangalore North, who are pretty happy with the development work that has taken place here, however feel that their candidate should lay more emphasis on drinking water and also a better transport system.
Bangalore North as a constituency has changed a lot. Earlier a lot was dependant on the minority votes which helped C K Jaffer Sharrief win this seat eight times. He however lost to Sangliana H T who was in the BJP in 2004.
Apart from the minorities there are a good number of Vokkaligas too in this constituency. But things have changed and elections are largely won on development issues here.
Considering the IT and real estate boom, the people want development and better infrastructure.
Image: Sadananda Gowda