Will BJP's gamble of giving ticket to a Kadva Patel in the Leuva Patel-dominated Rajkot constituency pay off? Haresh Pandya analyses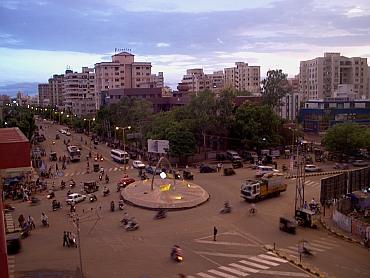 Caste and community of the candidate count more than a person's social status when it comes to elections in Rajkot, the industrial capital of Narendra Modi's Gujarat.
And the Patels in particular, both Leuva and Kadva, usually turn out to be a decisive factor in the poll results.
Rajkot's current Congress MP Kunvarji Bavaliya represents the Koli community, though. But there are reasons why and how a non-Patel got elected.
Contrary to expectations, the Bharatiya Janata Party had given a ticket to Kiran Patel, a Kadva Patel and political novice, in 2009, ignoring claims by several party loyalists.

The selection of Kiran Patel -- a wealthy businessman from Rajkot who runs high-profile schools, colleges and cinema halls, among others -- did not go down well with the staunch BJP supporters.

There was no support for him -- neither from within the BJP nor from his own Kadva Patel community -- as much as he might have expected, and consequently he was seen biting the dust in the saffron party's own fortress as Bavaliya won by 24,735 votes.

Many Leuva Patel leaders of the BJP, too, had allegedly ensured that their community members voted against their own party candidate.
It was not Bavaliya's charisma, but the BJP's blunder in selection of the candidate, which saw emergence of a Congress MP, and that too a non-Patel, in Rajkot after ages.

Knowing the presence of the dominant Patel community in Rajkot district, Congress would also have loved to field either a Leuva or a Kadva. But it did not find one and considered Bavaliya to be the best possible bet in the prevalent circumstances.

Bavaliya has been repeated for the 2014 parliamentary elections as well. Congress insiders say luck may not be with Bavaliya this time round.
The BJP has learnt a vital lesson from the last Lok Sabha poll debacle and chosen a candidate seemingly acceptable to most, if not all, for the ensuing parliamentary elections.

There were quite a few Leuva Patels in the fray but eventually the BJP decided on Mohan Kundariya, an influential, powerful Kadva Patel and sitting MP from Tankara.

Though all BJP workers are understood to have pledged full support to Kundariya, it is being secretly feared that he might not enjoy the wholehearted support of Leuva Patels.
Leuva Patels have the maximum 2.1 lakh votes (13.00 per cent) in Rajkot district, followed by Kolis with 2.05 lakh (12.76 per cent). Kadva Patels have 1.85 lakh votes (9.83 per cent), Muslims 1.15 lakh (7.16 per cent), Brahmins 1 lakh (6.22 per cent), Dalits 1 lakh (6.22 per cent) and Ahirs 80,000 (4.98 per cent).

Other communities put together have 6,25,735 votes (38.00 per cent).
Considering the age-old silent dispute between Levua Patels and Kadva Patels, votes from other communities, including Brahmin, Koli and Muslim may have a crucial bearing on the results. This is where Bavaliya may have an edge over Kundariya regardless of the fact that not all Kolis will vote for him.
"Just like in 2009, Leuva Patels will again play a decisive role. Kundariya's personal charisma may work only as far as Kadva Patels are concerned. Of course, it will rain votes for Kundariya if the BJP supporters among Leuva Patels forget that he is a Kadva Patel and just remember that he represents the saffron brigade," said political analyst Rajul Dave.

Image: A view of Rajkot city