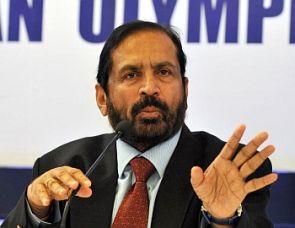 Sulking after being denied Pune Lok Sabha seat renomination, sitting Congress MP Suresh Kalmadi on Friday said he will announce his decision on contesting the polls in the next two days, even as Congress leaders tried to seek his support for the official candidate Vishwajeet Kadam.
Kalmadi, who was closeted with his supporters at his residence to discuss the future course of action, said his consultations with them were still inconclusive and would continue on Saturday.
When contacted, Kalmadi, who had been suspended from the party following the CWG scam, confirmed that Maharashtra minister Harshawardhan Patil (Congress) had called on him seeking his support for the party's official candidate and state Youth Congress president Vishwajeet Kadam.
"He sought my support. I told him I would abide by my supporters' opinion," Kalmadi told PTI.
About his meeting with Kalmadi, Patil said, "we have requested him to involve his supporters in the election campaign of Kadam."
Asked whether he wanted Congress high command to nominate his wife Meera for the Pune seat in view of the CWG scam allegations against him, Kalmadi replied in the affirmative.
"If not me because of the so-called scam, my wife could have been given the ticket in my place. I had told the high command to consider my wife's nomination as she is an active member of the party engaged in social work in slums," he said.
When asked why his wife too was not considered for the seat, he said "I do not know."
"I will announce my decision on contesting the polls in the next two days," the MP said.
Kalmadi also said that during today's discussions, many of his supporters wanted the high command to revoke his suspension effected after his arrest in the CWG case in 2011.
Meanwhile, NCP leader and state deputy chief minister Ajit Pawar, a known Kalmadi detractor, on Friday held a joint meeting of Congress and NCP workers at Congress Bhavan to chalk out election strategy to ensure the victory of Kadam, who enjoys a close rapport with the NCP leadership.
Kalmadi, a three-time MP from Pune, is still considered a heavyweight in city politics with his strong base of supporters in the civic body.
Image: Congress MP Suresh Kalmadi