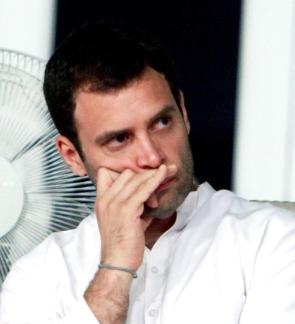 The Congress was not unduly perturbed by reports that party vice-president Rahul Gandhi's application for proof of residence in Amethi was turned down by the district magistrate, stating emphatically that this would have no impact on his nomination from his Lok Sabha constituency. Anita Katyal explains why
Although the report left the party red-faced, its spokespersons maintained it was only a technical glitch and would be sorted out.
Congress spokesperson Randeep Surjewala maintained that the only requirement for contesting a Lok Sabha election is that a candidate should be an Indian citizen and a voter but not necessarily in the constituency from which he wishes to contest.
"The Nehru-Gandhi family has a history and tradition of love and affection with the people of Amethi which goes back several decades. Rahul Gandhi is a sitting member of Parliament from Amethi and has won two Lok Sabha elections from here," Surjewala told rediff.com.
Turning down Rahul's application for proof of residence in Amethi, District Magistrate, Jagatraj Tripathi said there is no proof that Rahul resides in Amethi or even occasionally stays there. Rahul needs proof of residence to apply for a bank account and to do so he needs a domicile certificate. All candidates are expected to open bank accounts as per the Election Commission's poll expenses rules notified in 2011.
The district magistrate's remarks came as a surprise for the Congress given that Rahul has represented Amethi in the Lok Sabha for a decade now.
Congress leaders pointed out that Rahul's application was rejected on technical grounds, stating that the party would take necessary corrective measures. The Amethi district magistrate rejected the application as it was not made by Rahul whose signature has to necessarily be appended on the form which was not there. Moreover, the papers needed with the application were also not provided, it was pointed out.
Rahul's application was filed by Congress's Amethi spokesman Rajendra Singh which showed Munshiganj Guest house as party vice-president's temporary address.
"This is a minor issue. Congress president Sonia Gandhi filed her nomination from Rae Bareli on Wednesday. There was no problem. Is the Bharati7ya Janata Party's prime ministerial candidate Narendra Modi a resident of Vadodara or Varanasi?" Congress spokesperson and Union minister Anand Sharma asked.
Concurring with Sharma, former Rajya Sabha member Suresh Keswani maintained that a person has to be an Indian to contest an election but can be a voter and resident in any part of the country.
"Look at Smriti Irani who has been fielded against Rahul Gandhi by the BJP or the Aam Admi Party candidate Gul Panag from Chandigarh… are they voters or residents from the constituencies from where they are contesting?" he asked.
Sonia and Rahul are voters in Delhi but contest from Rae Bareli and Amethi, Congress leaders stressed. Listing the qualifications for contesting the Lok Sabha elections, the official website of the Election Commission of India has said:
Qualifications & Disqualifications for contesting elections to Parliament and State Legislature (except J & K), and documents and other requirements at the time of filing of nomination papers
1) Minimum age for contesting election to-
Lok Sabha (House of the People) - 25 years
Vidhan Sabha (Legislative Assembly) - 25 years
Rajya Sabha (Council of States) - 30 years
Vidhan Parishad (Legislative Council)- 30 years
2) Qualifications & disqualification for contesting aforesaid elections are given in Articles 84, 102, 173& 191 of the Constitution and Sections 3 to 10A of the RP Act, 1951.
Extract from relevant provisions:
Article 84- Qualification for membership of Parliament:
A person shall not be qualified to be chosen to fill a seat in Parliament unless he:
(a) is a citizen of India, and makes and subscribes before some person authorized in that behalf by the Election Commission an oath or affirmation according to the form set out for the purpose in the Third Schedule;
(b) is, in the case of a seat in the Council of States, not less than thirty years of age and, in the case of a seat in the House of the People, not less than twenty-five years of age; and
(c) possesses such other qualifications as may be prescribed in that behalf by or under any law made by Parliament.
While stating that an Indian citizen was freed to contest a Lok Sabha election from any part of the country, an Election Commission spokesperson said it is for the returning officer to determine if a candidate's papers are in order.