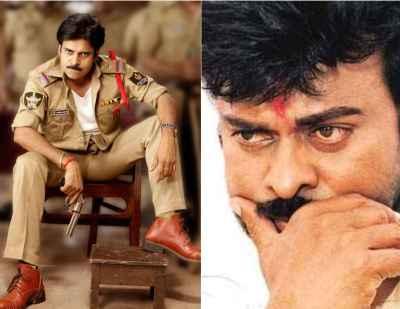 Pawan Kalyan has proved that he is a bigger star in politics compared to his brother, megastar Chiranjeevi. However, despite being rivals on the political battlefield, the two brothers never entered into a slander match. Vicky Nanjappa reports.
When the elections in Andhra Pradesh commenced, the one news to hit the headlines in a big way was the battle between megastar Chiranjeevi and his 'Telugu Dabbang' brother Pawan Kalyan.
The two brothers were seen campaigning together for the Praja Rajyam Party during the previous election. However, cracks began to show up when Chiranjeevi merged his Praja Rajyam Party with the Congress. Pawan Kalyan was miffed but did not say much and continued with his acting career.
As the elections approached Pawan Kalyan decided that he wanted to take the plunge into politics. He showed a leaning towards Narendra Modi and decided he would campaign for the BJP. He even went ahead and launched the Jana Shakthi Party. Chiranjeevi, a Union minister in the UPA government, then summoned Pawan Kalyan and told him to campaign for the Congress with him as he had been appointed chief campaigner for the party.
Pawan Kalyan, with all due respect for his brother, said, "Sorry anna, I cannot say Jai Sonia. My image will take a beating".
Chiranjeevi lost his cool and asked him what image he was talking about. "All this image is because of me," he reportedly told his brother.
The meeting ended and Chiranjeevi went to the press and said he would meet his brother on the battlefield.
Today we all know who the clear winner is. Pawan Kalyan's campaign for the TDP-BJP combine worked wonders and they are going to form the first government in Seemandhra.
The Congress, on the other hand, failed to open its account in Seemandhra. All through his campaign Chiranjeevi failed to make any impression on the voter. His megastar image failed to reverse the fact that the Congress was seen as a culprit in Seemandhra due to the bifurcation issue.
Pawan Kalyan, on the other hand, maintained a sustained campaign. He was seen more in the coastal Andhra belts which helped the BJP-TDP dish out the votes in large numbers.
Pawan Kalyan has proved that he is a bigger star in politics compared to his brother. However, what one must bear in mind that the brothers, despite being rivals on the battlefield, never entered into a slander match. They respected each other and didn't speak against each other, thus proving blood is thicker than water even if you are rivals on the political battle field.