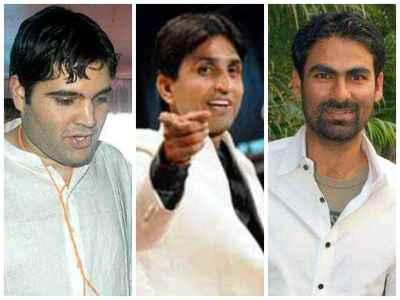 Bharatiya Janata Party's Varun Gandhi, Aam Aadmi Party candidate in Amethi Kumar Vishwas and Lok Janshakti Party chief Ram Vilas Paswan were among the prominent candidates who filed nominations on the fourth day for the penultimate phase of Lok Sabha election covering 64 seats in seven states.
Cricketer Mohd Kaif entered the fray from Phulpur in UP while Uttarakhand Chief Minister Harish Rawat's wife Renuka Rawat filed nomination from Haridwar on Tuesday.
34-year-old Varun filed nomination papers from Sultanpur Lok Sabha seat in UP with four local BJP leaders from upper caste and OBC communities signing as proposers.
In neighbouring Amethi, the pocket-borough of Nehru-Gandhi family, Aam Aadmi Party candidate Kumar Vishwas, who is pitted against Congress vice-president Rahul Gandhi and Bharatiya Janata Party's Smriti Irani, filed his nomination
Besides Kumar, BSP leader Dharmendra Pratap Singh, Trinamool Congress nominee Chhaya Singh and other Independent candidates also filed their nomination papers from Amethi.
A total of 50 candidates filed nomination papers in Uttar Pradesh today, taking the count to 68 candidates for 15 seats that will go to polls on May 7.
The last date of filing nomination is April 19. The scrutiny will take place on April 21 and withdrawal of nomination will be allowed till April 23.
Other prominent candidates were Rewati Raman Singh, Nand Gopal Gupta, Nirmal Khatri and Kamal Kishore.
In Bihar, Lok Janshakti Party president Ramvilas Paswan filed his nomination from Hajipur Lok Sabha seat
Hajipur (SC) will go to the polls on May 7 along with seven other seats in Bihar. Paswan will face sitting JD(U) MP Ramsundar Das and Sanjeev Prasad Tony of Congress.
Renuka Rawat, sitting Congress MP from Nainital K C Singh Baba and Samajwadi party's Avtar Singh were among 13 candidates who filed their nominations today in Uttarakhand, where all five sets will go to polls in this phase.
Renuka filed her papers from Haridwar where she is pitted against former BJP chief minister Ramesh Pokhariyal Nishank and AAP's Kanchan Chaudhry Bhattacharya, a former DGP.
Image: Varun Gandhi (left), Kumar Vishwas and Mohd Kaif