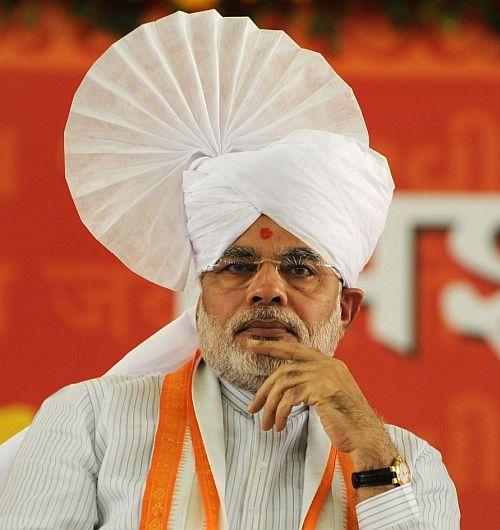 The nine-year American visa ban on Narendra Modi will automatically be lifted and he would enjoy diplomatic immunity if the Bharatiya Janata Party leader becomes the prime minister of India, according to a Congressional report.
"Modi is widely considered to be one of the front-runners as prime ministerial candidate of his Bharatiya Janata Party. If Narendra Modi were to become Prime Minister of India, he would automatically be eligible for an A-1 (diplomatic) visa as head of state, regardless of the purpose of his visit," the Congressional Research Service said in its communication to US lawmakers on Monday.
In 2005, the US had denied visa to Modi in the wake of the 2002 Gujarat riots and has since not revoked its decision.
The seven-page report 'Visa Policy: the case of Narendra Modi' was prepared by the CRS -- an independent and bipartisan wing of the US Congress -- at the request of several lawmakers, most of whom have been opposed to a US visa to the Gujarat chief minister.
The views and reports of the CRS are meant to keep the lawmakers informed and is non-binding either on the Congress or the US government.
Congressmen -- Republican Joe Pitts and Democrat Keith Ellison -- had asked a set of five questions on the prospects of US granting a visa to Modi if he is elected as the Prime Minister of India.
The lawmakers had asked 'What is the process for approval of a US visa if Modi were to apply for one?' and 'Were Modi elected Prime Minister of India, how would his ascension likely affect his prospects to receive a US visa? Would the US be required to grant him a diplomatic visa? How might the International Religious Freedom Act be interpreted should he apply for a visa?'
The report dated March 18 was made public on March 31.
It is only US President Barack Obama who can exercise his authority to deny a visa to Modi as the Prime Minister of India if he deems that would be detrimental to the American interest, the report said.
In August 2011, Obama had issued a proclamation in this regard pertaining to foreign nationals involved in war crime or systematic violence systematic against civilian populations.
Meanwhile, US State Department Deputy Spokesperson Marie Harf on Monday said the US is looking forward to working with the new Indian government after the elections, reiterating that Indo-US relationship is stronger and would continue to strengthen.