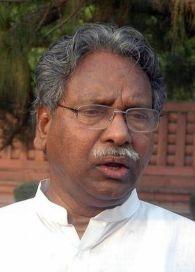 Union Textiles Minister K Sambasiva Rao on Thursday resigned from the Union Cabinet protesting bifurcation of Andhra Pradesh, fuelling speculation that he may join Bharatiya Janata Party.
The five-time Congress MP from Andhra Pradesh confirmed reports that he had met BJP President Rajnath Singh but said he was not in talks for joining the saffron party.
If he joins the BJP, Rao would be the second Congress minister from Seemandhra to switch over to the principal opposition party after Purandeswari, who quit Congress protesting division of Andhra Pradesh.
Rao met Prime Minister Manmohan Singh and handed over his resignation, asking him to accept it with immediate effect and relieve him from his responsibilities.
"I am not contesting in this election on behalf of Congress party... I am not in talks with Rajnath Singh, but I met him (Rajnath Singh) for whatever reason you imagine," Rao told reporters after meeting Singh.
He also stated that he has not decided whether to continue with Congress even as his supporters were asking him to contest from regional parties such as YSR Congress Party and Telugu Desam Party.
In his resignation letter, Rao said that he could not continue to be a member of the Council of Ministers against his conscience knowing that the Government has caused "irreparable damage" to the state.
"I continued to be part of the Government hoping that the genuine demands of the people of Andhra Pradesh would at least be considered... However no one has listened to my pleadings," he added.
Noting that it was not in the spirit of federal character of the Constitution to pursue bifurcation after the State legislature has rejected it, he said, "I have pointed out that the same will lead to divisive tendencies and history will not remember us kindly. However, my pleadings have fallen on deaf ears."
Rao alleged that the issue of bifurcation of Andhra Pradesh was not handled correctly.
"An informed discussion would have resulted in solving the concerns of the people of Andhra Pradesh. However even after my pleadings in each of the cabinet meetings no time was given even to read the proposals properly," he stated.
Elected to the Lok Sabha in 1984, Rao who is representing Eluru constituency in Andhra Pradesh and was inducted into the Cabinet in June 2013.
Image: Union Textiles Minister K Sambasiva Rao