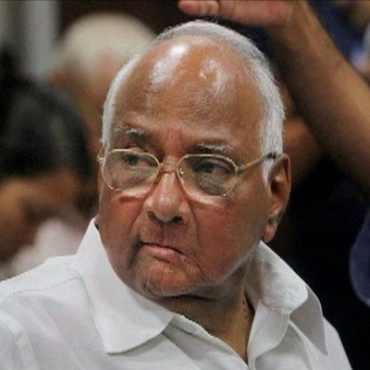 Nationalist Congress Party chief Sharad Pawar trashed Shiv Sena leader Uddhav Thackeray's claim that he blocked his entry into the National Democratic Alliance, dubbing it the "joke of the year" made out of "frustration".
"I will say this is the joke of the year," Pawar retorted sharply, reacting to Uddhav's assertion that the NCP boss and Union minister had sent feelers to him to join the opposition alliance.
"I knew late Balasaheb Thackeray intimately. He was a mature person. I feel sorry that the person, who has taken the responsibility of running an organisation set up by Balasaheb Thackeray, his level of thinking is this... making irresponsible statements. That's the reason that his organisation, day by day, is going down," Pawar said.
The NCP president said nobody took Uddhav seriously and so "the question of my taking him seriously does not arise".
"We (NCP and Congress) have been continuously working progressively together. We are defeating them. We are running a government here (in Maharashtra). That's why they have become frustrated and that's why they are making this type of statements," Pawar said.
Uddhav had, in an interview published in party mouthpiece 'Saamana' and during an interaction with a television channel, said he and other leaders of 'Mahayuti' (Grand Alliance) in Maharashtra, including Bharatiya Janata Party's Gopinath Munde and Republican Party of India's Ramdas Athavale, had thwarted attempts by the NCP veteran to join the NDA.
"There is total confusion in their minds, they are unable to do any progressive work for the people of the state and that's why the only one programme they have taken is to make this type of irresponsible statements and try to achieve something they will never achieve," Pawar said.