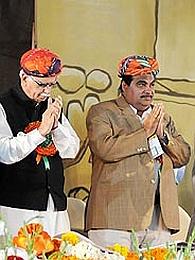 Top Bharatiya Janata Party leaders have been engaged in consultations with each other over the post-poll situation in the wake of exit polls projections that the party-led National Democratic Alliance may form the government.
"As the BJP is the obvious frontrunner to form the government, party leaders are meeting to strategise over likely scenarios which are expected to be thrown up on May 16 when the counting of votes take place," a party source said.
As part of the high-level confabulations, former BJP president Nitin Gadkari met L K Advani and discussed with him the unfolding situation and post-poll scenario. Gadkari had met party's prime ministerial candidate Narendra Modi on Monday.
Sources said top party leaders have been meeting each other for the last couple of days.
Party President Rajnath Singh has met Sushma Swaraj while Modi has held meetings with a number of leaders, including Singh, besides the Sangh leadership.
Chhattisgarh Chief Minister Raman Singh also met Modi on Monday.

Image: BJP senior leaders L K Advani and Nitin Gadkari on Tuesday