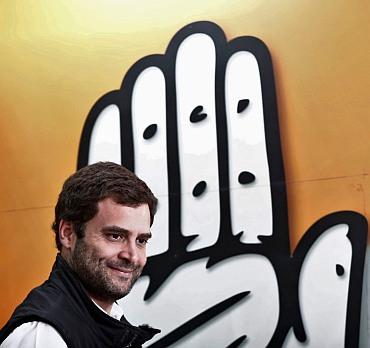 Given the alleged Modi wave in the country, poll pundits have all but written the Congress off for the 2014 Lok Sabha elections.
But can you really write off the Congress until the last vote is counted?
We took a data driven look at the INC's campaign to identify its focus areas across India. We started with Rediff's real-time news index which crawls over 30,000 news outlets. From this large repository of news articles, Rediff's Data Science team algorithmically identified all location names. Out of this corpus, we programmatically identified the articles that also mentioned the name 'Rahul'. Using a Lok Sabha constituency look-up table, we then filtered this list of locations to only constituency names. The result was a list of news articles from a wide variety of sources that mentioned any Lok Sabha constituency and the name 'Rahul'. This co-occurrence of a Lok Sabha constituency and the name 'Rahul' means that either Rahul Gandhi visited the constituency or that this place was a focus area for Congress campaigns. From this analysis emerged the 165 constituencies where Congress could give the Bharatiya Janata Party a run for its money. This data is visualised on the interactive map above.
Also see the table below that shows those 65 of the focus constituencies where INC did not win in the 2009 Lok Sabha elections. The table shows the winning candidates and parties in 2009 Lok Sabha Elections.
Note: The highlighted rows show constituencies where 2009's winning candidates are contesting for the same party for this election.
Click here to see the full list
Could there be a pattern in constituencies that the Congress is focusing more on? We invite you, our readers, to tell us your observations from this data in the message boards below.
Special Coverage: Election 2014
CREDITS: Rediff Labs Team