'My heart is in Hyderabad but fate has brought me to Rajasthan'
April 11, 2014 08:17 IST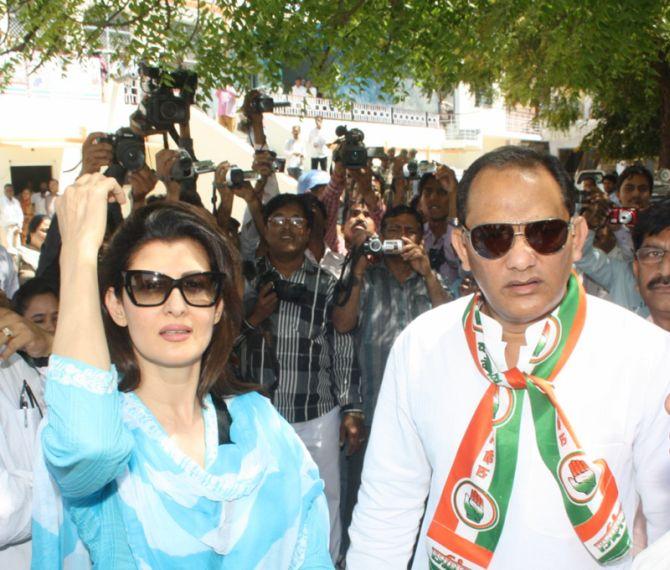 Congress candidate from Rajasthan's Tonk-Sawaimadhopur constituency Mohammed Azharuddin tells rediff.com's PB Chandra about the tough battle ahead, his plans for the region and his view on statehood to Telangana.
The Congress and Bharatiya Janata Party have airdropped candidates to fight the electoral battle in Rajasthan's Tonk-Sawaimadhopur constituency.
While the Congress has fielded former skipper of the Indian cricket team, Mohammed Azharuddin, the BJP has selected former Haryana MLA Sukhbir Singh Jaunapuriya.
The caste-ridden Tonk-Sawaimadhopur seat has 3 lakh Meena votes, about the same number of Gujjar votes, 1.50 lakh Brahmins, 80,000 Jats and 1.25 lakh Scheduled Caste voters. The minority community constitutes just 1.80 lakh voters.
On caste lines, Azharuddin may not have much of a chance against BJP's Jaunapuriya and the Rashtriya Janta Party's Jagmohan Meena.
Jagmohan, a former civil servant, quit his job to contest in the elections. He is the brother of Meena community leader and MLA Dr Kirori Lal Meena.
In the December state assembly election, the minority community came out in large numbers and voted. But despite the Congress fielding16 Muslims candidates, not a single candidate won.
The BJP, which fielded three Muslims, won all three seats.
Fielding a Muslim candidate in the Lok Sabha election has always been a compulsion for the Congress. Except on two occasions -- 1965 Indo-Pak war hero Capt Ayub Khan contested from Jhunjhunu seat under a strong Congress wave and won -- a Muslim has not been able to win a Lok Sabha seat from this constituency.
Except for the district headquarters of Tonk and Sawamadhopur, there are no other towns in the two districts, which are among the most backward in the state.
The well-known tiger sanctuary Ranthambhore is located in Sawaimadhopur and attracts good number of tourists. Sawaimadhopur once had the biggest cement plant in Asia, which closed down 25 years ago and despite good deposit of limestone, the district has not seen another cement plant come up.
Large dilapidated havelis can be seen in the old city and the local people have been demanding railway connectivity for years now.
Azharuddin, his wife Sangeeta Bijlani and son Asaduddin were greeted in large numbers when he came to file his nominations. But like Sukhbir Jaunapuriya, the people still consider him an outsider.
What made you shift from Moradabad to Tonk-Sawaimadhopur?
In 2009, I was sent by the Congress party to this constituency and was asked to contest from here. Then in a turn of event, the party thought that I could fit in better in Moradabad. I was shifted to Moradabad and I won. This time the party wanted to field me from here and I am here at the order of the party.
Click NEXT to read further...
'In five years I learnt that there is a difference between an MLA and MP'
April 11, 2014 08:17 IST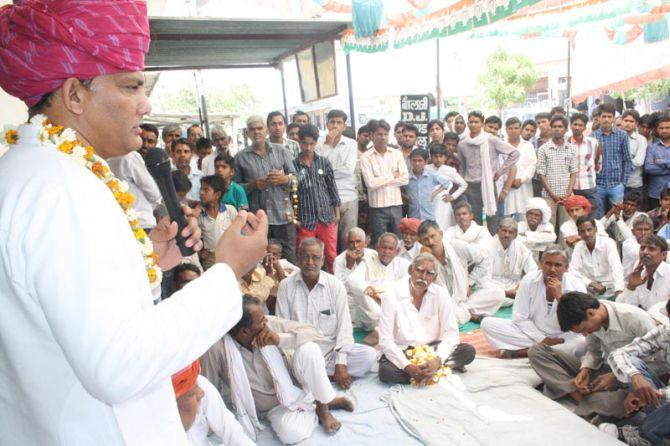 But the feeling here is that you were shunted out of Moradabad because you performed poorly and there was need for a minority candidate in Rajasthan. The party thought you are an ideal candidate.
It's a sinister campaign against me launched by the Bharatiya Janata Party that I performed poorly in Moradabad…that I was not seen in Moradabad. Look, in five years I learnt that there is a difference between an MLA and MP. I was MP and was needed in Delhi where the Lok Sabha is located.
I had to cater to all the assembly segments under my constituency and I did serve it dutifully. I carried out work worth Rs 4,000 crore, despite the fact that Uttar Pradesh was not ruled by the Congress.
Those who say I did nothing for Moradabad, they should go and see my website azhar.co and they will understand. I travelled a lot from Delhi to Moradabad and Moradabad to Lucknow to get work done.
ADR-Daksh has conducted a survey covering 250,000 people across 500 plus Lok Sabha seats. They found out what issues people think are most important and how they rate their MPs on those issues. I was among those select few MPs who were marked or made their mark. How could I have figured among the performers if I had not done anything for Moradabad?
You were thinking of going to Barasat and Bashirhat in West Bengal also. What happened there?
I would like to make it clear that as far as choosing the constituency is concerned, I had no say. The party bosses asked me to explore these two constituencies in West Bengal. I was given a good welcome there by the people. In Bengal people love sports and sportspersons. I had told the party they could send me anywhere. I am known for accepting challenges -- something cricket has taught me. The decision was made and I was asked to contest from Tonk-Sawaimadhopur. Since I am here I have to bat here and I can tell you I am going to win.
Click NEXT to read further...
'I am putting my Moradabad experience to good use here'
April 11, 2014 08:17 IST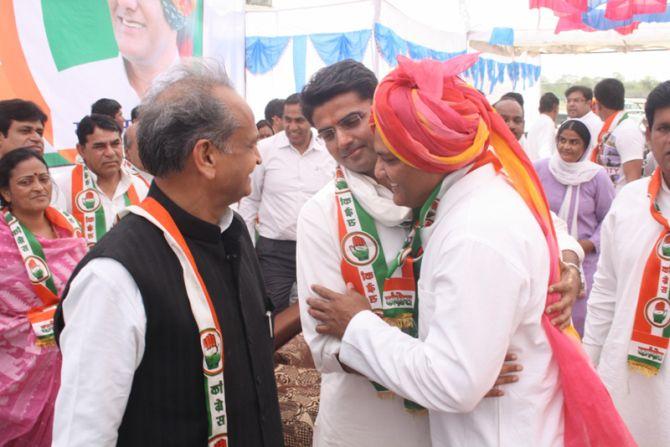 You know that the record suggest that only one person from the minority community has won a Lok Sabha election from here.
Yes, Capt Ayub Khan had won and no other has succeeded. If he could win I too can emerge victorious. It's the will, the desire that makes you a victor.
There are only 1.8 lakh minority voters, still you have hope…
Tell me, can a candidate win only on the support of one community or one caste. He will have to secure support from all quarters. I don't believe in caste politics.
The Congress in the last assembly election fared very poorly. For the first time not a single person from the minority community was elected. Congress fielded 16 Muslims in Rajasthan assembly elections last year. But none could win. In this scenario how confident are you of victory.
Yes, it was pathetic. The party suffered historic defeat, but political happenings are the most dynamic things and I expect people to vote differently and sensibly. I am sure with the support from all castes I shall win. I carry a very secular image.
Don't you feel in your heart that you are not culturally and socially linked to this constituency. What is your knowledge about Tonk? How would you convince voters of this constituency?
I knew nothing about Moradabad too. But then I assimilated with the people there. I am putting my Moradabad experience to good use here. Yet if there is some disadvantage, my main rival Sukhbir Singh Jaunapuriya too shares that. He is a Gujjar and belongs to Delhi with no Rajasthan connect. He has come here with the Gujjar vote support. I have come with the support of all the 36 kaums (caste and communities).
Click NEXT to read further...
'Uttar Pradesh should be further divided into two-three states'
April 11, 2014 08:17 IST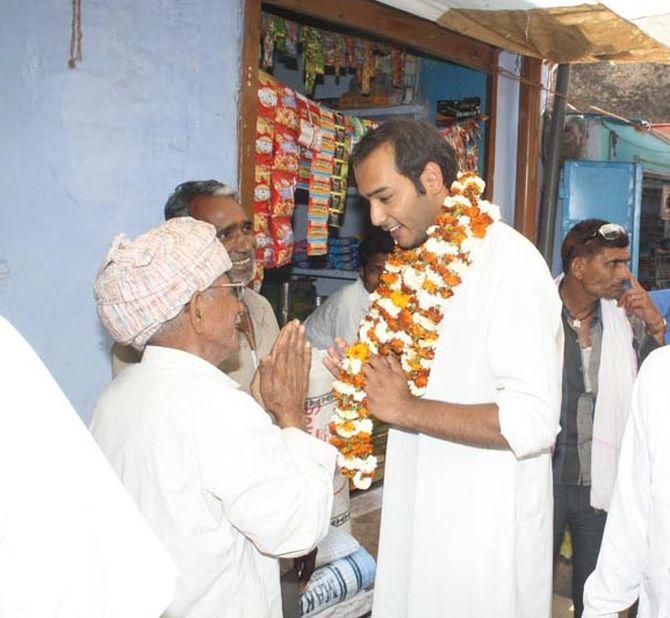 You are a celebrity…a well-known cricketer. How is that helping you?
Yes, it's an advantage. People recognise you quickly. That's the major requirement in an election arena. Once you are identified you can assimilate quickly.
Do you think the Congress was right in dividing Andhra Pradesh.
The demand for a separate Telangana was not the brain child of the Congress. There was a demand for smaller state with Telangana becoming a separate state. Smaller states could be governed in better way. I still feel Uttar Pradesh should be further divided into two-three states. This will help the process of development.
Were you in favour of the formation of Telangana
Right now my mind is focused on Rajasthan. But I must answer your question. The demand for Telangana was not new. I have been hearing about it since my childhood. As a Hyderabadi, I remember having seen so many agitations.
It was the people's agitation and the people's demand. The UPA government decided to give a separate Telangana because it was the wish of the people.
The division of Andhra Pradesh was the demand of the people and a government at the Centre has to bow before the wishes of the people. It's the democratic process.
Click NEXT to read further...
'History is being created in AP and I would have loved to be part of it'
April 11, 2014 08:17 IST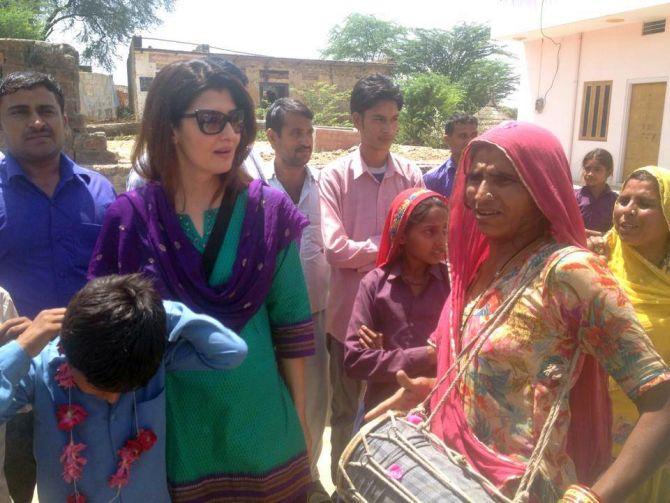 But Congress violated the parliamentary process in granting Telangana statehood…
No, Congress did not violate any parliamentary process. How could it do that, there is a Constitution that one has to follow.
If you were not contesting from here would you have preferred contesting from Andhra Pradesh.
You have really searched my heart (laughs). It's natural for any human being to be at home or in his or her home turf. My heart is in Hyderabad. History is being created there and I would have loved to be part of that process. Given a chance I would have contested from there. But there is something called fate and I am here, but I am here to conquer.
What do you want to do for Tonk-Sawaimadhopur if you win?
Tonk and Sawaimadhopur are among the most backward districts of the state. My first effort would be to provide the basic need of water, electricity, education and health care. I think tourism is another subject that can be taken up seriously.
TOP photo features you missed last week
April 11, 2014 08:17 IST
Click on MORE to see another PHOTO feature...