The party's plan to win all 25 seats in Rajasthan may have been affected owing to the decision to field new candidates from five seats. Shahnawaz Akhtar reports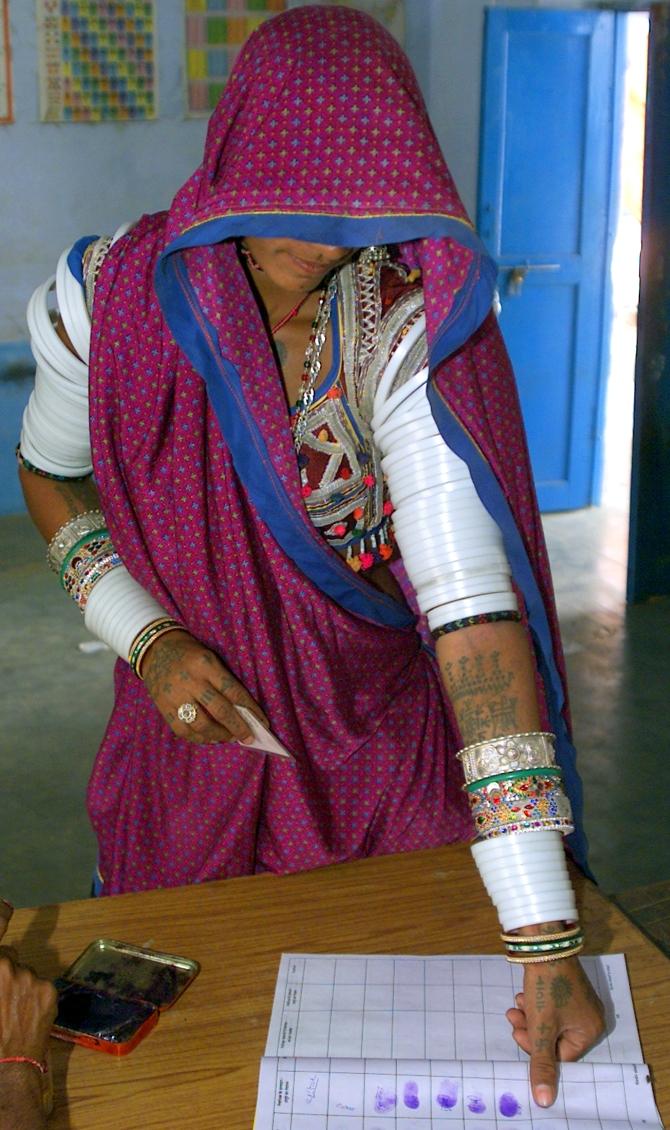 On the heels of its stupendous performance in last year's assembly election, the Bharatiya Janata Party believed winning all 25 parliamentary seats from Rajasthan would be a cakewalk.
However, as Rajasthan goes to the polls on Thursday in its second phase, it appears that the BJP's decision to field new candidates from five Lok Sabha constituencies -- Dausa, Alwar, Bharatpur, Karauli-Dholpur, and Tonk-Sawai Madhopur might dent its chances of accomplishing Mission 25.
In Alwar, the Congress has fielded Bhanwar Jitendra Singh, the sitting Member of Parliament and Union minister of state for defence against BJP's Mehant Chand Nath, a candidate backed by yoga guru Baba Ramdev. However, Singh is fighting a strong anti-incumbency wave, which might tip the odds in the BJP's favour.
The Dausa seat will be interesting to watch with tribal leader Kirori Lal Meena, the sitting MP, who resigned in December after he won the assembly election from Lalsot seat in the same district, taking on Namo Narain Meena of the Congress and Harish Meena of the BJP, both brothers. Harish Meena is the state's former director general of police and was newly-inducted into the party. The fourth candidate vying for the seat is AAP's Sanjit Dhanka, a former professor of Delhi University. Others in the race are Anju Dhanka (independent) and Surajbhan Dhanka from the Samajwadi Party. But sources say that it will be a three-way race between Kirori Lal and the Meena brothers.
From Tonk-Sawai Madhopur, it will be a battle between cricket and wrestling with Congress' Mohammed Azharuddin, who was elected as an MP from Moradabad in 2009, taking on the BJP's Sukhbir Jaunapuria, a wrestler. Locals believe that the arrival of Jagmohan Meena, a retired officer who filed his nomination from National People's Party, will dent in the votes of both the BJP and the Congress.
In Bharatpur, the Congress has replaced the sitting MP Ratan Singh with Dr Sanjay Yadav, who will take on the BJP's Bahadur Singh and Lakhiram Bairwa from the Congress will fight it out with BJP's Manoj Rajoria for the Karauli-Dholpur Lok Sabha seat.
Predicting the outcome, Anand Chaudhary, a political analyst said, "Congress can retain Alwar and Tonk-Sawai Madhopur whereas the BJP has the upper hand in Bharatpur and Karauli-Dholpur. But, it's Dausa that is anybody's game."
Complete Coverage: Election 2014
Image is for representational purposes only.