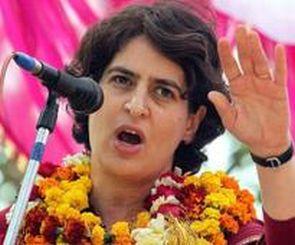 Priyanka Gandhi on Wednesday took on Narendra Modi by raking up the "snoopgate" controversy surrounding him and said leaders who indulge in wrong acts against women should be "thrown out".
Campaigning for her mother and Congress President Sonia Gandhi in this constituency of Uttar Pradesh, she also exhorted the electorate to reject divisive politics and those persons who believe in concentrating all powers with themselves.
Contending that the standards of election campaigning had deteriorated, she deplored personal attacks and said "this is not politics".
She told a gathering of women to make political leaders answerable and ask, "If you are talking about empowering us (women), tell us how will you do that. If you are talking about empowering us (women), then do not listen to our phone conversations behind closed doors."
Even though she did not name Modi, the reference was clearly to the Gujarat chief minister who has been surrounded by a controversy over snooping of a young woman in the state allegedly at his behest.
In a suggestive remark, Priyanka told the gathering, "You must be knowing (about the controversy). Isn't it?"
She then went on to add, "If there are such political leaders who indulge in wrong acts against women, they should be thrown out of parties."
The Congress' star campaigner, who has been camping here, said the leaders should be asked what they are doing for empowering women.
"When there is talk about women's empowerment, you must have seen, a lot of leaders come and speak on the issue. It is always about the role of a woman as mother, sister, daughter or wife. This is fine. I too am a mother, sister, daughter and wife. But that is not our 'astitva' (existence). We are 'nari' (women) and that is our existence," she said.
Asserting that empowerment is a right of women, Priyanka said nobody should think that it is some kind of favour towards the fair sex which comprises half the population.
"If we talk about women's empowerment, we need to recognise the strength of a woman, we need to talk genuinely about women empowerment, without being condescending towards women," she said.
Accusing BJP of double standard on the issue of women empowerment, Priyanka said if they are concerned about it, then they should empower them by giving reservation.
"But what have you been doing for us? This is a big issue before the voters in this election," she said.
Addressing another gathering, Priyanka said the ongoing Lok Sabha polls are a contest between two different ideologies.
She said the Congress ideology was that power should be given to the people for which rights like RTI, RTE, Right to Food and schemes for employment had been formulated.
"The idea behind these policies is that it is the people's power and people should get it. These are your rights....This is Congress' ideology," she said.
"On the other hand there is another ideology where your are being told to trust only one man, who has answers to all the questions and all power should be centred in him," she said, apparently referring to BJP and Modi.
She asked people to judge which of these ideologies would strengthen the country.
Asking the electorate to think about the future of the nation while voting, Priyanka said her party has always believed that the entire country "will move forward in unity" while on the other hand, there is a "negative communal politics" which considers one section important and "ignores" the other.
She said a culture of generosity prevails in the country and her mother who was born outside India was accepted here. She said that this culture was under threat and people should protect it.
© Copyright 2023 PTI. All rights reserved. Republication or redistribution of PTI content, including by framing or similar means, is expressly prohibited without the prior written consent.