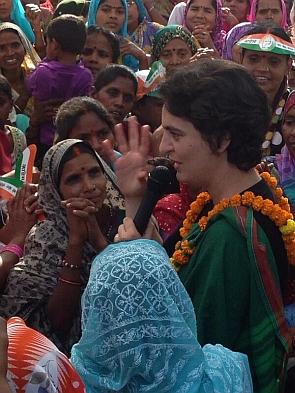 Hitting out at Rahul Gandhi's critics, Priyanka Gandhi said that her brother's style of politics was 'liberal' and 'not opaque' and that the Congress vice-president worked for the development of every section and looked upon all as equals.
During her marathon roadshow in Amethi, which goes to polls in a week, Priyanka spoke to voters about the relationship of love they had with the Gandhis and cautioned them about the intentions of other candidates 'who come only during elections'.
She enumerated the development work carried out in the constituency by her family members, including her father Rajiv Gandhi, and even admitted that more needs to be done. "His (Rahul's) politics is not opaque, it is liberal. He looks at all as equals and wants that everyone is benefited and stay united," she said. She said that the people have supported her family for generations because they have seen them work for the development of the area.
Complete Coverage: Election 2014
"Many candidates are coming in your area. There are many types of campaigns going on. There is criticism as well that development work has not been undertaken. Main jaanti hoon ki aap samajhte hai. Jo sahi niyat se aapke saamna aata hai, jo kaam karta hai, aap use achchi tarah se pechante hai. Aap unki niyat samaj lo. Kisliye aaye hain yahan (I know you understand those who have come with right intentions in front of you. You recognise those who work. So you understand their intentions why they have come here)," she said.
She said that these candidates only come to Amethi because it is Rahul's constituency. She said that neither do they have any love and concern for this area or its people nor do they have any relationship with them. "These things I think you understand more than me. You have supported my family for generations and you have seen their work as well. If work was not done, then you would have never supported. This is a relationship of love and I hope that you will make Rahul win," she said.
Drawing parallels between her brother and father Rajiv, she said Rahul is a visionary like the late prime minister who represented Amethi constituency in Parliament. "Rahulji has done a lot of development work. The works done by him will help people reap benefits in the coming 10 to 20 years. He is a visionary like his father whose initiatives are bearing fruit today," she added said.
She, however, acknowledged that there are still several issues which need to be addressed including the electricity crisis in the constituency and also blamed the state government for its slackness in development work. "I know there is a power problem here. Rahul initiated steps to bring electricity. But the supply of the electricity is the state government's responsibility," she added.
She said that Congress president Sonia Gandhi had spoken to Samajwadi Party chief Mulayam Singh Yadav about providing 24 hour power supply to both Amethi and Rae Bareli. But some political parties went to high court asking why these areas were being given special treatment, Priyanka said and added that till these issues are resolved providing uninterrupted power supply would be a problem.
Priyanka further added that candidates of opposition parties were spreading various types of propaganda. She said that they alleged that no development work has been done in Amethi, but the people know what Rahul has done for the area. Priyanka also spoke to the people, who complained about damaged roads and the acute power crisis, issues she assured would be looked it.
Image: Priyanka Gandhi speaks to women in Amethi during her massive 130-km roadshow. Photograph: Twitter/@AkhileshPSingh