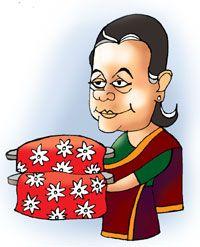 Congress boss breaks with tradition to send two chadars to the Ajmer dargah. Illustration: Uttam Ghosh/Rediff.com
Leaving nothing to chance, Congress boss Sonia Gandhi will offer two chadars at the tomb of Sufi saint Khwaja Moinuddin Chisti at Ajmer on the occasion of its 802nd Urs.
Sonia usually sends one chadar to the dargah.
Party sources said the move to send two chadars is aimed at pleasing two factions of the Barelvi sect of Muslims.
Some Congress leaders feel the decision to offer the second chadar has something to do with Rahul Gandhi facing a fight in the Amethi Lok Sabha seat.
A chadar has already been sent by 10, Janpath, to the dargah.
Rajasthan Congress boss Sachin Pilot, Congress secretary Mirza Irshad Baig and MP Ashq Ali Tak carried a chadar to Ajmer. Another chadar is likely to be sent with Sonia's political secretary Ahmed Patel.
Also read: Throw of dice for Jaitley, Paswan