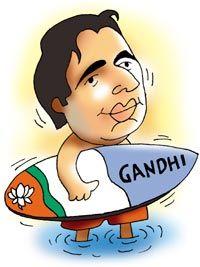 Is the other Nehru ashamed to flaunt his BJP colours? Illustration: Uttam Ghosh/Rediff.com
Varun Gandhi is astute.
In 2009, the Bharatiya Janata Party politician won the Pilibhit Lok Sabha seat in Uttar Pradesh even before campaigning began, by making controversial communal remarks that sharply polarised voters.
This time round, Varun, in the fray from Sultanpur, wants to invoke his family legacy. Varun, for folks who may not know, is Indira Gandhi's grandson, the only child of her younger son Sanjay Gandhi.
After casting his vote in New Delhi on Thursday, Varun was asked to comment on Priyanka Gandhi's remark that there was no 'Modi wave' in the country.
As a 'disciplined' soldier of the BJP, Varun should have contradicted and challenged his cousin Priyanka, but he grinned and avoided comment.
A section of the BJP is livid, while the Varun camp justifies it on the ground that any row with Priyanka would adversely affect his poll prospects in Sultanpur that shares district boundaries with Amethi and Rai Bareli from where his cousin Rahul Gandhi and aunt Sonia Gandhi are contesting the election.
In Sultanpur, Varun emphasises his status as Indira Gandhi's grandson and Sanjay Gandhi's son. Indira Gandhi fought the 1967, 1971, 1977 and 1980 elections from Rae Bareli; Sanjay Gandhi contested the Amethi seat in 1977 and 1980. He died in an air crash on June 23, 1980 when Varun was three months and 18 days old.
Check out: Poll Gupshup