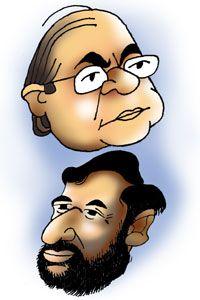 The duo face a tough challenge to their ministerial aspirations. Illustration: Uttam Ghosh/Rediff.com
Verdict 2014 is yet to be announced, but speculation is rife among NDA allies about portfolio allocations.
Ram Vilas Paswan is keen to get railways if Narendra Modi becomes the premier.
Arun Jaitley's supporters have bookmarked the finance portfolio for the lawyer.
But will Paswan and Jaitley win the Lok Sabha polls? Both leaders confront a tough fight in their constituencies.
While Rajnath Singh has ruled himself out for a ministerial berth, the Sushma Swaraj camp is wary of a role being spoken for her as deputy chairperson, Planning Commission.
Madhya Pradesh Chief Minister Shivraj Singh Chouhan thinks Modi may shift him out of Bhopal to Krishi Bhavan as the next agriculture minister.