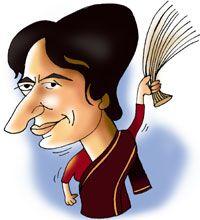 Her calculation goes that Arvind Kejriwal, not Ajay Rai, can take on Modi better. Illustration: Uttam Ghosh/Rediff.com
Priyanka Gandhi will not campaign for Congress nominee Ajay Rai in Varanasi after all.
In Priyanka's scheme of things, Varanasi is almost a lost cause for the Congress, and her presence could end up helping the BJP's Narendra Modi against Aam Aadmi Party leader Arvind Kejriwal.
Congress sources say Priyanka's decision not to visit Varanasi is based on some "cold realities".
Priyanka's feedback is that Kejriwal is better placed to pose some sort of a challenge to Modi than Rai.
Secondly, her presence in the temple town will undermine her position as a future leader of the Congress party.
Moreover, the bulk of Muslim voters are inclined to vote for Kejriwal than Rai.
A decision on Priyanka's future role in the party will be taken after May 16 when the election results will be known.