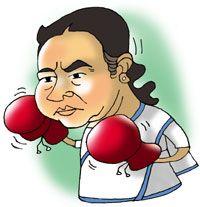 Didi drags Rashtrapati into electoral battle. Illustration: Uttam Ghosh/Rediff.com
Trust Mamata Banerjee to do something nobody dares to do.
The Bengal chief minister, while campaigning in Jangipur, took pot shots at President Pranab Mukherjee whose son Abhijit Mukherjee is the Congress nominee for the seat.
Mamata urged voters to reject Abhijit, their MP, and added that opening bank branches in the constituency did not amount to development.
Jangipur was represented by Pranabda before he became the Rashtrapati and as finance minister, he had inaugurated new bank branches in his constituency.
Abhijit and local Congress leaders question Mamatadi
Traditionally the President is never mentioned in political campaigns. But try telling that to Mamatadi.
Check out: Poll Gupshup