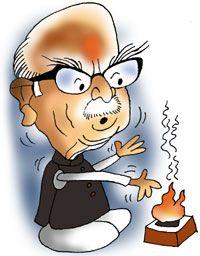 Sanjaya Baru's book is making waves and how! Illustration: Uttam Ghosh/Rediff.com
Sanjaya Baru's book The Accidental Prime Minister tells the extraordinary story of how Sonia Gandhi functioned as the 'super boss', relegating Prime Minister Manmohan Singh to the second spot.
Dr Singh's media adviser for his first term, Dr Baru's account is full of gossip. Dr Baru would cheer up Dr Singh, pointing at L K Advani's apparent attempts to unseat the prime minister by holding a havan, something the Advani camp steadfastly denies having done.
The CPI-M's Sitaram Yechury too has reason to see red. Dr Baru recalls how Dr Singh had sent him to the CPI-M HQ to gauge the mood about the Left's opposition to some budgetary proposals made by Finance Minister P Chidambaram.
Yechury reportedly assured fellow Telugu Dr Baru that the Left would 'bark', but not 'bite', implying that there will be noises made, but no withdrawal of support to UPA 1.
'Chidambaram being Chidambaram', Dr Baru writes, could not resist a jibe and commented in Yechury's presence, 'Either way he (Yechury) agrees that he is a dog!'
Check out: Poll Gupshup