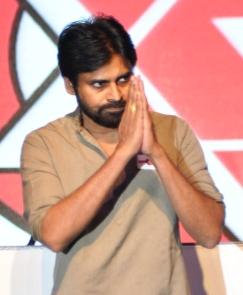 Popular Telugu film star Pavan Kalyan launched his Jana Sena party with a 'call to the nation' to 'wipe out' the Congress party on Friday.
His concluding message in a two-hour long address to his fans at the sprawling InternationalConvention Center at Hyderabad was "Congress Hatao Desh Bachao".
Kalyan, who appeared very angry over the recent bifurcation of Andhra Pradesh, said he was out to take revenge, because he did not like the manner in which the Congress high command divided the state and took away "our own Telangana".
His speech, heard by about 6,000 fans and by lakhs of others through a live telecast across the state was singularly focused on targeting Congress party over the Telangana issue.
Pavan's entry in to politics seems to have only added to woes of the beleaguered Grand Old Party, as he has vowed to work for the defeat of each and very Congress candidate in the state and expressed willingness to join hands with any party other than the Congress. He named Telugu Desam president N Chandrababu Naidu among the leaders he would be talking to.
When somebody in the gathering wanted Pavan to speak about Naidu, he smiled away the question, saying, "Chandrababu is a good person."
Significantly, he did not use any harsh words against the Bharatiya Janata Party or its prime ministerial candidate Narendra Modi. In fact, by giving his anti-Congress slogan, he reminded many of a similar campaign by Narendra Modi for a "Congress-free India".
Giving an emotional touch to the proceedings, he said, "If I am forced to stand up against my father-like elder brother Chiranjeevi, it is because of the sins of rulers sitting in Delhi."
He held Congress president Sonia Gandhi, vice president Rahul Gandhi, Home Minister Sushilkumar Shinde, Finance Minister P Chidambaram, party general secretary Digvijaya Singh, senior leader Ahmed Patel and Union Minister Jairam Ramesh responsible for the division of Andhra.
He described Ramesh as Lord Mountbatten for his role in the division of the state. "I am telling your dear sirs, you have backstabbed us. Our hearts are bleeding," he said. He advised Rahul to learn from his grandmother Indira Gandhi who bravely visited Chennai during the anti-Hindi agitation and withdrew the orders of making Hindi compulsory.
"She rectified the mistake. It was an exemplary leadership," he said.
Addressing Sonia and Rahul, Pavan said, "No matter who they are or what they are, I don't give a damn." Pavan asked senior Congress leaders to explain why they kept quiet for five long years from 2009 and passed the bill in the last session of Lok Sabha only in 23 days.
"They should come to Vizinagaram, the constituency of state Congress president Botsa Satyanarayan, and explains the reasons for doing so," he said. He said he would work to ensure that the Congress never wins a single seat.
Pavan raised the pitch from time to time in true filmy style, evoking a thunderous applause.
Though he was at his sarcastic best while talking of Telangana leaders, especially Telangana Rashtra Samithi leader K Chandrashekhar Rao and his family, he, at the same time insisted that he was not against Telagana.
"I am not against Telangana. But I will not keep quite if the self respect of Seemandhra and the Telugu people is trampled."
Pavan's speech was replete with references to the problems of women including the acid attacks, sexual attacks, of youth, of the poor and the common man. He said the idea of launching his own party to fight for the common came was born from his earlier organisation 'Common Man Protection Force' as he had seen the problems of poverty and insecurity from close quarters.
While bitterly criticising the decision to divide Andhra, Pavan told the people of Seemandhra it was wrong to blame KCR or the people of Telangana.
"The problem became serious and the present situation was created because of the decades-long neglect of Telangana by the politicians. All the parties and all the ministers; be it from Telangana or Seemandhra are responsible for this situation," he said.
Blaming the "divisive and vote bank politics" of the Congress for the division of the state, he said, "The people are sick and tired of the Congress as it is making brothers fight each other. I want to revolt against these people. I want to fight against them."
He kept referring to Telangana as "our Telangana" and rejected the demand of Telangana Jagruthi Samithi leader and KCR's daughter Kavita that he (Pawan) should apologise to the people of Telangana. "This is my Telangana. Whether I have to apologise to my own people and my fans, it is for me to decide. It has nothing to do with you or your family," he said.
Pavan said now that the state was divided everybody should work for stability and development of the two states. "For that I am ready to join the hands of any political party other than Congress," he said.
"The state is divided. Let us live together like brothers now. If you continue to divide like this, there will be no development,", e said "If you continue to criticise the people of Seemandhra, you will not be able to achieve the goal of a 'Golden Telangana'," he told the leaders of Telangana region.
However, what turned out to be a disappointment for his fans, Kalyan remained non-committal on whether he or his party would be contesting the upcoming elections. "I am not entering the politics now for power or posts," was all he said.
"We will contest the elections. But whether now or two years or five years later, I have not decided," he added. Describing himself as a "citizen of India" Pavan said, "I have no caste, or religion."
Describing the Telugu people as "emotional fools" Pavan said that when after the Emergency, the entire country had rejected the Congress, people of Andhra Pradesh had supported it. "But the same hand stabbed us in the back," he said.
"The Congress insulted the Telugu people at every step. When (former prime minister) P V Narasimha Rao died, his body was not taken to the All India Congress Committee headquarters and was instead sent to Hyderabad," he said.
"The Congress hates Telugu people because it sees Rao in every Telugu person's face," he added.
Questioning the sincerity of the Congress in the creation of Telangana, Pavan said, "If they were so sincere, why did they have to wait until 1,000 youths laid down their lives?" Talking of the agenda of the Jan Sena Party, he said it will work for the equality of everybody before the law, for safety and security of women, for ending the system of black marketing and for better health care which will be at par with the corporate hospitals.
Ridiculing the dynastic rule in the political parties which gives tickets only to the sons and sons-in-laws, he said that he will not admit 'jumpers and jokers' of other parties into his party. He said that the doors of his party would be open to everybody, irrespective of religion or region. "I am not here to earn wealth or to start a newspaper or TV channel," he said.
Image: Pavan Kalyan at the International Convention Center in Hyderabad. Photograph: SnapsIndia