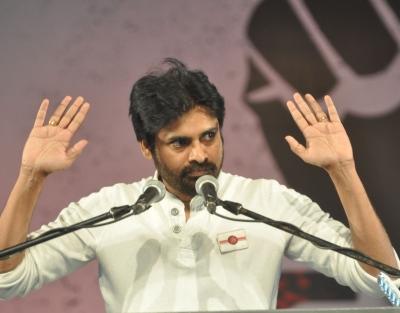 Telugu film star Pavan Kalyan, who recently launched Jana Sena Party, on Thursday said his party would not contest the upcoming elections, though he supported Narendra Modi for the prime minister's post.
"I am not participating in elections this time. The reason is, we are divided into two states. There are many problems," he said. Kalyan added that he could have fielded independent candidates even though his fledgling party did not get recognition from Election Commission in time, but he was not doing that either.
"I don't want to contest because I don't want to split votes," he said, addressing Sena's first public meeting in the coastal city this evening. Kalyan, the youngest brother of Union Minister Chiranjeevi, appealed to his fans and supporters to vote for whichever party or candidate they believed in.
"You vote for someone who you feel can build the new state (of Seemandhra) and the new capital," he said. Kalyan, who recently met Modi in Ahmedabad, hailed the latter's leadership. "Our country needs a leader who can plainly speak the truth. Did we have a prime minister for the last some years who can forcefully speak and inspire us? Is there anyone? I have found such leadership qualities in Narendra Modi. That's why I met him.
"It does not matter whether he belonged to the Bharatiya Janata Party or any other party," he said. Repeatedly expressing anger over the way Andhra Pradesh was divided, he said, "Modi rightly asked whether a mother can separate the children like this."
"Dear Shri Narendra Modi-ji, sir, I believe in your defining and definitive leadership. I would like to see you and we would like to see you as prime minister," he said. His party would resort to agitations if the governments that would come up in Seemandhra and Telangana post elections diverted from the path of public service and ethics, he said.
The actor-turned-politician said he would quit politics if it was proved that "I have taken one rupee from anyone or asked for a post". He came down heavily on Congress high command for the manner in which Andhra Pradesh was divided.
Pavan also released a book titled 'ISM', co-authored by him with a friend, on the ideology of Jana Sena.
Touching upon some points of the ideology, he said the law should apply equally to all citizens and not conveniently twisted for the rich and the powerful and political leaders should selflessly work for public welfare without considerations of religion, caste, language or creed.


Image: Pavan Kalyan at a public gathering in Visakhapatnam. Photograph: SnapsIndia