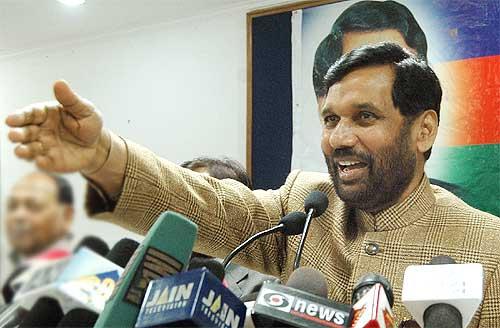 "Paswan is working hard, as his personal stake is high. Now the poll battle in Jamui is seen as a challenge for him, thanks to the presence of his son Chirag in the fray," a LJP leader said. Though Jamui is a reserved constituency and falls in Maoist-affected category, Paswan is taking no chance.
"Jamui has become a prestigious seat for him," another LJP leader said. Paswan himself is contesting from his traditional Hajipur seat, but he is giving less time for his constituency and spending more time in Jamui.
"Paswan has thrown everything behind his son in Jamui; he himself is in command of the campaign and camping will camp there until Wednesday," the leader added. According to LJP leaders, Paswan has deployed top party leaders including his brother and state LJP president Pasupati Kumar Paras, former party Member of Parliament Surajbhan Singh and former party legislator Maheshwar Singh in Jamui to manage his son's campaign polls and woo voters.

Chirag an actor-turned politician, who is contesting his first polls, is also addressing eight to nine public meetings every day, road shows and visiting villages and meeting people at different places till late in night. The LJP, which joined the Bharatiya Janata Party-led National Democratic Alliance in February, after a gap of 12 years, is contesting 7 of the 40 Lok Sabha seats in Bihar. It is taking help of the saffron party leaders to influence voters. BJP president Rajnath Singh had addressed an election meeting seeking support for Chirag in Jamui last week.
Chirag is contesting against Bihar Assembly Speaker and the Janata Dal-United's Uday Narayan Chaudhary and the Rashtriya Janata Dal's Sudhanshu Shekhar Bhaskar from Jamui. Jamui will go to polls on April 10.