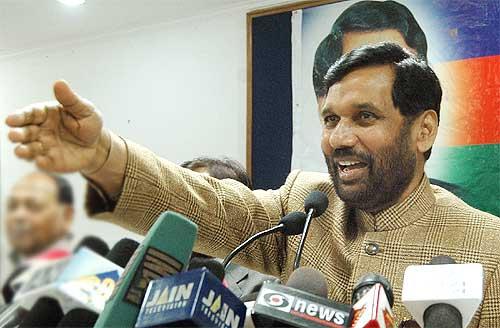 Lok Janshakti Party chief Ram Vilas Paswan on Tuesday filed his nomination papers from the Hajipur parliamentary constituency in Bihar, and claimed that he would break his own Guinness World Record for winning a parliamentary election with the highest margin.

"I will not only repeat the world record, but I will break my own record this time," an upbeat Paswan said at a public meeting after he filed nomination papers from his traditional Hajipur seat.

Paswan recalled that he won from Hajipur in 1977 with a margin of 4.24 lakh votes that sent him straight to the Guinness Book of World Records. "The situation seems like 1977 -- I am confident I will repeat it," he said.
The record was broken by P V Narasimha Rao, when he won from the Nandyal constituency in Andhra Pradesh in 1991 by 5 lakh votes after he became prime minister. Senior Bharatiya Janata Party leader Rajiv Pratap Rudy accompanied Paswan when he filed his nomination papers in Hajipur.
"People have been supporting me and will vote for me in the polls," he said. Paswan is contesting against the Janata Dal-United candidate and sitting Member of Parliament Ram Sunder Das, 93, who is also former Bihar chief minister.