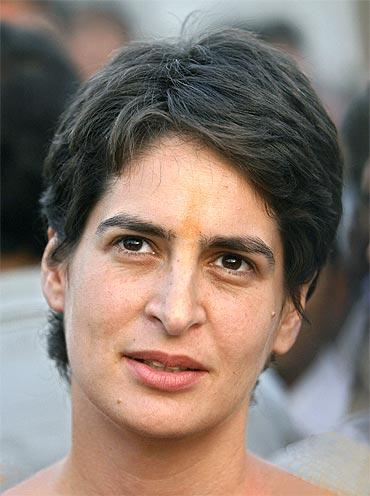 With Congress on the verge of a humiliating defeat, a group of party workers on Friday gathered outside the All India Congress Committee headquarters demanding Priyanka Gandhi's entry into active politics to "rescue" the party.
About two dozen workers led by a party worker Jagdish Sharma shouted slogans in favour of Priyanka outside the party headquarters as the trends showed Congress clocking its worst-ever performance in any Lok Sabha polls.
They waved placards with screaming slogans "Wakt Ki Pukar Priyanka Gandhi". They were also holding placards with photos of Rahul Gandhi.
Talking to reporters, Sharma said that while Rahul Gandhi has worked hard, the time now demands that Priyanka Gandhi should also work shoulder to shoulder with the party vice president.
"Had Priyanka Gandhi campaigned earlier, the results would have been different," Sharma insisted.
A few days back, some posters of Priyanka had surfaced in Allahabad which said, "Bhaiya ko bhi hai behnena ki darkar, Priyanka party ka karo prachar, UPA ki sarkar banao teesri baar (Even the brother needs the sister, Priyanka you campaign for the party and help form UPA government for the third time)."
This is not the first election in which there has been a demand from the party workers for a larger role for Priyanka, who has so far strictly confined herself to campaigning in only two parliamentary seats of Raebareli and Amethi represented by her mother Sonia Gandhi and brother Rahul Gandhi.
Two district Congress leaders from Allahabad, who had put up posters asking Priyanka to contest from the Phulpur constituency in October 2013, were suspended by the party last year.
Recently, some remarks by senior party leader Janardan Dwivedi regarding Priyanka's interest in politics have led to speculation about a possible larger role for her in the party affairs.