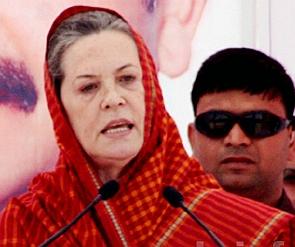 Narendra Modi was at the receiving end of 'neech (low-level)' barb again, this time from Congress President Sonia Gandhi, who berated his "insult" of Rajiv Gandhi and said such "low-level" thought and words do not suit him and national politics.
Sonia also invoked former prime minister and ailing BJP leader Atal Bihari Vajpayee to hit out at Modi, saying Vajpayee and other former PMs maintained the dignity of the post but the way Modi criticised Rajiv Gandhi could not be termed anything but petty.

Special Coverage: Election 2014
The BJP's prime ministerial candidate had said Rajiv, a former PM, had publicly humiliated a Congress chief minister when he was the party's general secretary to claim it was the ruling party leaders who practiced the politics of anger and arrogance and not him.
Modi's severe criticism of the Gandhi family in his rally at Amethi, from where Sonia's son and Congress Vice President Rahul Gandhi is contesting election, had prompted Rahul's sister Priyanka to accuse him of practicing "neech rajniti" (low-level politics). Modi, in turn, accused the Congress of targeting his lower caste origin.
"I will say that he (Modi) must keep in mind this great country's rich culture and generosity. Such 'neech' thought and words do not behove him... If such are his words, you can well understand what will be his action," Sonia said at an election rally in the UP town.
She lambasted his "false" claims about Gujarat's development and said 40 percent people in the state's villages do not get water for drinking and irrigation.
Gujarat, she said hitting out at the state's CM, still considers those earning below a paltry sum of Rs 11 per day as poor and even by such low base over 40 lakh families there are poor. "If this becomes the condition of the whole country, then you can understand what will happen," she said.
"Our country has had many prime ministers... Atal Bihari Vajpayee has also been our prime minister. He upheld the dignity of the post... but in order to fulfill his selfish political motives, Modi has made a comment on the martyrdom of Rajiv Gandhi 23 years after his assassination," Sonia said lashing out at Modi.
Asking the BJP PM hopeful to pay heed to the country's culture and generosity, the Congress chief said, "India is a country having a strong social network and leading it is not an easy task. Leading it has to be based on sacrifice, generosity and brotherhood. But how can those having scant regard for these look after the country?"
She said that Modi was charging "us with weakness in fighting terrorism. But you must recall how many people were killed in terror activities during the six years of the BJP rule at the Centre".
"I have the picture in front of my eyes of the sorrow and problems faced during the attack on Amarnath yatra, Nandigram and Lalchowk," she said.
Citing the various welfare works undertaken by the United Progressive Alliance government, she said that on coming to power this time, UPA would provide right to free medical treatment in hospitals, right to pension for the aged, among others.
Wooing voters in favour of Congress candidate Union Minister of State R P N Singh in Kushinagar, Sonia said the Congress united the people while there were those who "created chasm in the society" and wanted to take the country where "power and prosperity was confined in the hands of a few, and the voice of the weak and needy was gagged".
"Our ideology is for an open society in which the voice of everyone can be heard," she said, and expressed confidence that people would make the right choice in the polls.

Image: Congress President Sonia Gandhi