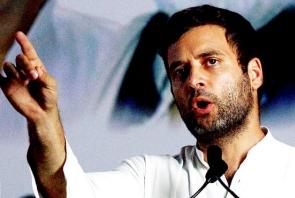 Rahul Gandhi on Thursday joined his sister Priyanka Gandhi in attacking Narendra Modi over snoopgate controversy, saying the Gujarat government has no regard for women as it gets their phones tapped.
Addressing an election rally at Hargaon, he alleged that Modi gave 45,000 acres of agricultural land to an industrialist though no industry has been set up there till date and claimed farmers in Gujarat would have starved to death had the Centre not implemented Mahatma Gandhi National Rural Employment Gurantee Act.
"The Gujarat government has no regard for women as they get their phones tapped while the Congress respects women and believes in empowering them," the Congress vice president said.

Special Coverage: Election 2014
Priyanka took on Modi by raking up the "snoopgate" controversy surrounding him on Wednesday and said leaders who indulge in wrong acts against women should be "thrown out".
The Bharatiya Janata Party reacted by accusing the Congress of being confused about its poll campaign and strategy and said its top leadership continued to launch personal attacks on BJP leaders while resenting such attacks on their own leaders.
It was alleged that Gujarat authorities had carried out illegal surveillance on a young woman in 2009 on direction of Modi, a charge rejected by the BJP.
The Union cabinet had on December 26 last year decided to set up the Commission of Inquiry to probe into the Gujarat snoopgate. The decision was taken under the Commissions of Inquiry Act under which the Modi government has already set up a similar panel.
"Modi who wants to guard the country sidelined senior BJP leaders like Jaswant Singh and L K Advani," the Congress vice president said at the rally on Thursday.
Continuing his tirade against the "Gujarat model" of development, Rahul said, "If the UPA government had not implemented NREGA, farmers of Gujarat could have died of hunger".
Criticising the Samajwadi Party government in Uttar Pradesh, Rahul said youths from the state go out in search of employment and when they go to Maharashtra they are beaten and forced to go back home by Shiv Sena and BJP.
Also targeting Bahujan Samaj Party supremo Mayawati, Rahul accused her of grabbing land of poor farmers and amassing wealth during her regime.
Rahul, who was campaigning in support of party candidate Jitin Prasad from Dhaurara and Vaishali Ali from Sitapur, promised to stop "money drain: to China and assured the people that goods made in Dhaurara and Sitapur will be exported if Congress returns to power.

Image: Congress Vice President Rahul Gandhi