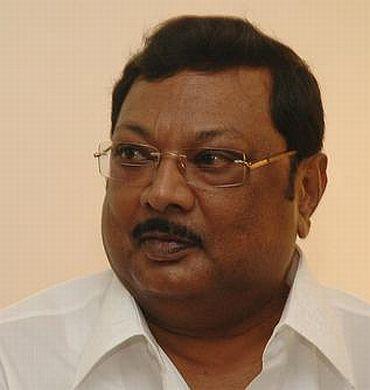 In what appears to be a patch up bid after going hammer and tongs against his younger brother, expelled Dravida Munetra Kazhagam leader M K Alagiri on Wednesday claimed differences with M K Stalin were based on policy and principles and nobody can 'create a rift in our family relationship.'
Asserting that he had no intention to launch his own party, Alagiri, ousted from the DMK last month for anti-party activities, also sought to play the emotional chord saying his father and party chief M Karunanidhi could not disown him as his son.
"Nobody can create a rift in the brotherly relationship with Stalin," said Alagiri, who is cut up with the rising stature of his younger brother, tipped to be the political heir-apparent of Karunanidhi.
"My father could not say I am (Alagiri) not his son", he said and asked "Can he give in writing that I am not his son?," Alagiri, the party's strongman in southern districts, asked while participating in a function at Cumbum.
He also said "If there is no Karunanidhi..there is no DMK. and I don't have any intention to start a new party," he added. Alagiri's comments assume significance as he had been attacking Stalin saying his brother had forced Karunanidhi to expel him. Besides, Alagiri has refused to accept anyone other than Karunanidhi as his leader in the party.
Defending his suspension in January, Karunanidhi had said Alagiri spewed hatred when he remarked that Stalin would die in three months.
"He (Alagiri) has some unknown hatred against Stalin. Alagiri even said Stalin would die in three months. No father can tolerate such words against a son. As the party chief, I had to tolerate them," Karunanidhi had said.
Even after his expulsion, Alagiri has questioned the selection of party candidates for the April 24 Lok Sabha polls hinting at Stalin's hand in the process and vowed to ensure the defeat of some.
Alagiri, who has been approached by leaders of various political parties for support in the polls, has asked his supporters to ensure the defeat of DMK candidate Pon Muthuramalingam in Theni Lok Sabha constituency.
At Cumbum on Wednesday, Congress Theni candidate J M Aroon and Marumalarchi Dravida Munetra Kazhagam nominee Alagu Sundaram met Alagiri and sought his support.
© Copyright 2021 PTI. All rights reserved. Republication or redistribution of PTI content, including by framing or similar means, is expressly prohibited without the prior written consent.