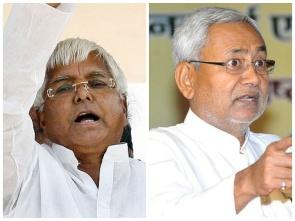 Bitter rivals in Bihar politics Nitish Kumar and Lalu Prasad will be neighbours now after the Janata Dal-United top leader abdicated power as chief minister in the face of severe drubbing in the recent Lok Sabha election.
Kumar has been alloted the bungalow on 7 Circular Road by the Building Construction Department, while Prasad lives in the one at 10 Circular Road allotted to his wife former chief minister Rabri Devi.
Special Coverage: Election 2014
Kumar will soon leave the CM's residence on One Anne Marg, which had been his abode for nine years. The 7 Circular Road bungalow is at present in the name of Chief Secretary Ashok Kumar Sinha. But as Sinha is retiring in June end, he will move to another building to make way for Kumar, sources in the BCD said on Thursday.
But, with some construction work required in 7 Circular Road bungalow keeping in view the security aspect of the former CM, the BCD department has made available 2 Strand Road bungalow to Kumar for the time being, the sources said.
Known in political circles as 'bade bhai and chhote bhai' (elder and younger brothers), Prasad and Kumar turned hostile after Kumar left him to form Samata Party and later JD-U. The political bitterness between the two increased with times.
© Copyright 2023 PTI. All rights reserved. Republication or redistribution of PTI content, including by framing or similar means, is expressly prohibited without the prior written consent.