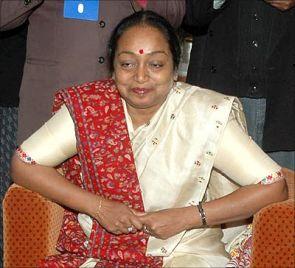 Medhavi Kirti, the granddaughter of late veteran Congress leader Babu Jagjiwan Ram, has been campaigning against her aunt Meira Kumar, Lok Sabha Speaker and Congress candidate from Sasaram Lok Sabha seat in Bihar.
Meira Kumar, who is a sitting MP from Bihar's Sasaram Lok Sabha seat, is the daughter of Jagjiwan Ram.
"I have campaigned for Janata Dal-United candidate K P Ramiah against Meira Kumar. I want to take revenge for her conspiracy against me," said Kirti. She alleged that it was Kumar who was behind the rejection of her nomination papers.
"I am happy with the response I've received during my campaign," she said.
Medhavi Kirti said she was the legitimate heir of Jagjivan Ram and president of Congress-J, the party he formed after he was humiliated by the Congress.
"I was subjected to great injustice after the death of my father and the family has suffered at the hands of my aunt," said Kirti.
However, neither development nor the much-delayed Durgawati reservoir project are poll issues in Sasaram. The outcome of the poll is usually based on personality and caste.
Even the 'Modi factor' is visible only among the upper castes.
"All political parties are trying to impress us. Some are taking credit for development while others are making tall promises. But we know who to support and vote, after all it is caste that matters here," said Sanjay Singh a resident of Sasaram.
Though both the Grand Trunk Road and Howrah-Delhi Grand Chord railway line pass through Sasaram, the place has failed to develop. This in spite of being represented by Jagjiwan Ram for four decades and for ten years by his daughter Meira, who served as Union minister before becoming the first woman Lok Sabha Speaker.
Prasad said the constituency was lagging behind in setting up industries, while some old factories had shut down in the last few decades.
He said the delay in completion of the Durgawati project was raised by BJP prime ministerial candidate Narendra Modi as well as Congress president Sonia Gandhi during their election campaigns here.
Unlike last time (2009 Lok Sabha polls), it appears to be a triangular fight among three Dalit -Congress candidates -- Lok Sabha Speaker Meira Kumar, BJP's Chedi Paswan and former bureaucrat K P Ramiah of the ruling JD-U.
A former Indian Foreign Service officer, Kumar is confidant of making a hat trick this time. To convince those questioning her achievements, Kumar has distributed booklets with facts and figures to counter rivals.
Meira Kumar's other advantage this time is the likely vote transferability of Rashtriya Janata Dal chief Lalu Prasad's castemen Yadav. She is also banking on the votes of her husband's castemen, Koeris, who have a sizeable presence in the constituency.
BJP candidate Paswan is hopeful of winning as he claims there is Modi wave across the country.
"He will defeat Meira Kumar again like he did twice in 1989 and 1991 due to the caste arithmetic in favour of Mandal messiah, V P Singh's Janata Dal candidate," Munna Kumar, a supporter of Paswan said.
Paswan is hoping for the support of his castemen -- Paswans -- locally known as Dusadh.
Ruling JD-U candidate Ramiah, a former IAS officer and native of Nellore district of Andhra Pradesh, took voluntary retirement last February. He is eyeing the support of Mahadalits, the poorest among Dalits.
Ramiah, who helped Bihar Chief Minister Nitish Kumar to implement several development and empowerment schemes for Mahadalits, is confident of their support.
Sasaram is a semi-urban and rural constituency falling in Rohtas and Kaimur districts with 15,86,484 voters .
It is a Maoist affected constituency with half of it known as the food basket of Bihar and the other half is drought prone.
Sasaram will go to polls on April 10.
Image: Meira Kumar, Lok Sabha Speaker and Congress candidate from Sasaram Lok Sabha seat