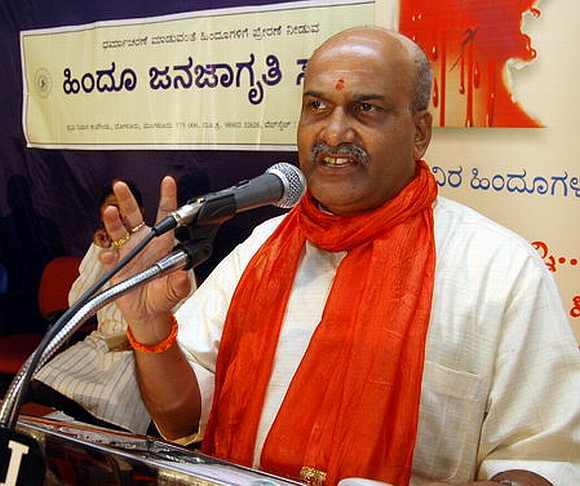 Controversial chief of right wing outfit Sri Ram Sene, Pramod Muthalik, on Monday asked the Bhratiya Janata Party's central leadership to retrace its "hasty" step of rejecting his membership within hours after he had joined the party.
Muthalik, who membership was set aside by a red-faced BJP top brass after it raised a storm of controversy on Sunday, broke down at a press conference here and said the party should explain the reasons for its decision.
"I have not made any property, could not attend my father's funeral and have not been able to pay attention to my ailing mother. I have led a clean life...I don't know why are ou treating me like this. What mistake have I committed"? Muthalik said, breaking down.
Earlier at Belgaum, Muthalik claimed it was Congress' "conspiracy" to stall his entry into the BJP, which quashed his party membership after opposition from within the party and it drew severe flak from other parties.
"It is a Congress conspiracy. There was a lot of enthusiasm among the majority community after I joined the BJP. The Congress conspired and stalled my entry into the BJP as their leaders realised my hold among Hindu votes," he said.
Muthalik said he wanted to join the BJP on the Sangh Parivar's suggestion that all Hindu outfits should work under one roof to avert any electoral damage.
"We accepted the suggestion and in the interest of the country, I decided to join the BJP. Also, we want to see Narendra Modi to be the next prime minister of the country."
In spite of the "unfortunate development", Muthalik said Ram Sene and its leaders will work toward strengthening the BJP from outside."
"Once we have accepted each other, there is no point in parting ways," he said. Muthalik, who is facing 45 cases, including those relating to promoting enmity between two communities, was linked with the attack by his outfit activists on women in a Mangalore pub in 2009 that had sparked a national outrage.
Sri Ram Sene activists had barged into a pub in Mangalore and assaulted youngsters -- women and men -- accusing them of behaving in an 'obscene manner'. Meanwhile, Union Minister M Veerappa Moily said in Bangalore that the induction and later dumping of Muthalik demonstrates the "inconsistency and contradictions" on the BJP's part.
"In that case, how can the Indian electorate pin hopes on the BJP, which can take anybody at anytime and throw out anybody anytime," he said. On induction of tainted former BJP minister Krishnaiah Shetty into Congress, Moily said "it is the party's decision and I cannot express myself against it."
© Copyright 2022 PTI. All rights reserved. Republication or redistribution of PTI content, including by framing or similar means, is expressly prohibited without the prior written consent.