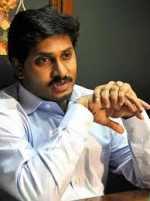 YSR Congress Party chief Y S Jaganmohan Reddy said the wave in favour of Narendra Modi played a role in his party's defeat in the Seemandhra region, where the Telugu Desam Party-Bharatiya Janata Party combine swept to power.
"Narendra Modi factor did play a role and people believed that TDP president Chandrababu Naidu's false promises," he said, adding, "We will be in the opposition. We will fight for the cause of the people."
Complete Coverage: Elections 2014
He indicated that the party was eyeing the 2019 elections. He said that the YSR Congress started its political journey with merely one member of Parliament and one member of the legislative assembly after which it enhanced its strength to 20 MLAs and two MPs. "Today, we have 10 MPs and 70 MLAs. So, in another five years, we are going to come back. This is my message to my cadre," Reddy said.
He conceded that fielding his mother Vijayamma, who is also the president of the YSR Congress party, was a wrong move. "We saw the Narendra Modi wave and it had to be countered. We took a few decisions. A few misfired," Reddy said.
Asked if it he is worried about Chandrababu Naidu at the helm in Seemandhra, he said, "It does not make any difference. Sonia Gandhi did whatever she could do. Now, it's going to start again with Chandrababu Naidu. I believe in God. I believe in destiny."
© Copyright 2021 PTI. All rights reserved. Republication or redistribution of PTI content, including by framing or similar means, is expressly prohibited without the prior written consent.