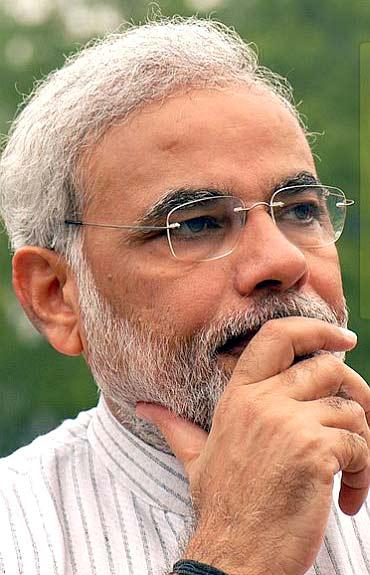 Amid hectic discussions on formation of the new government, indications emerged on Saturday that Narendra Modi would have a "small and compact" Cabinet that will take oath along with him on May 26 in the forecourt of Rashtrapati Bhawan.
Some senior Bharatiya Janata Party leaders including Rajnath Singh, Arun Jaitley, Nitin Gadkari, Sushma Swaraj, Arun Shourie, Ravi Shankar Prasad, Rajiv Pratap Rudy and Ananth Kumar are expected to find a place in the Cabinet, sources said. Leaders of National Democratic Alliance allies, such as the Telugu Desam Party, Akali Dal and the Lok Janshakti Party, are also likely to be included in the Council of Ministers.
Special Coverage: Election 2014
Modi, without revealing who will get what, has told his confidantes that he would like to see a "small and compact" Cabinet, the sources said.
An expansion of the Cabinet, if necessary, will be undertaken after a few months, they added. Modi is expected to restructure the government, which will include merger of some ministries, to "remove anomalies" for the effective delivery of governance. These include some key Finance and Commerce departments besides some others including those relating to education.
To give final touches to the Cabinet and portfolios, Modi on Saturday held a series of meetings with party leaders including M Venkaiah Naidu, Amit Shah, Ananth Kumar, Uma Bharti and J P Nadda, whose name is doing the rounds for taking over as party chief in case Rajnath Singh joins the Cabinet.
Chief of NDA ally Republican Party of India Ramdas Athawale also met Modi amid his hope of getting a Cabinet berth. There was a steady stream of visitors at Rajnath Singh's Ashoka Road residence also.
Prominent among those who met the BJP chief were party were LJP chief Ramvilas Paswan and his son Chirag, who has also been elected a member of Parliament. Paswan is hoping for a Cabinet rank ministry as well as a Minister of State berth for his party.
Leader of another NDA ally Apna Dal Anupriya Patel also met Rajnath Singh and later termed it a "courtesy" meeting. Asked whether she expected a berth in the Union Cabinet, she said, "you should ask the BJP. They will take a call on this."
Sources, however, said the Apna Dal which won two seats in Uttar Pradesh are also seeking to find a place in the new Cabinet. Rajnath also met senior party leaders as also the Rashtriya Swayamsevak Sangh points-man for BJP Suresh Soni and some allies. Others who met the party chief include MPs Maneka Gandhi and Udit Raj and senior Delhi unit leader and Rajya Sabha member Vijay Goel. Former Union minister in the NDA government I D Swamy also met Singh.
BJP general secretary Ram Lal also met the party chief, besides J P Nadda.
Preparations for formation of government have gained momentum with top BJP leaders engaged in a series of confabulations ahead of Modi's swearing in on Monday.
© Copyright 2022 PTI. All rights reserved. Republication or redistribution of PTI content, including by framing or similar means, is expressly prohibited without the prior written consent.