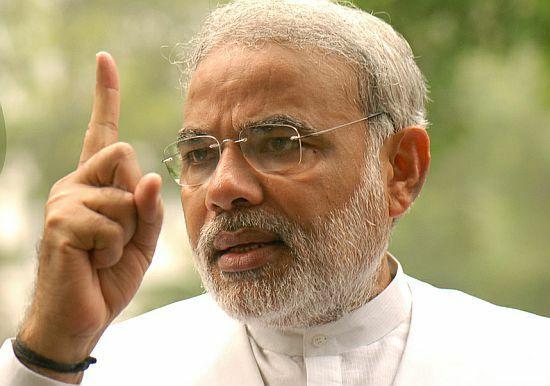 Tearing into the claims of the United Progressive Alliance about its flagship employment generation programme MNREGA, BJP's prime ministerial candidate Narendra Modi on Tuesday alleged it had only "filled the pockets of Congress" and sought to debunk the much-touted RTI.
"...I have come here to say who is anti-farmer, anti-poor, anti-youth? Such a government does not have any right to remain in power even for one minute also and therefore I pray and it is the need of the hour that we need a strong government at Delhi," he said.
Addressing rallies in northern Karnataka, Modi said "Madam Soniaji says we have eradicated poverty from villages. How did it happen? (She says) We have brought NREGA (National Rural Employment Guarantee Act)... Congress kaa jeb bharata hain uska naam hain Narega (It fills the pockets of Congress and its name is NREGA)."
Seeking to pick holes in Rahul Gandhi's frequent talk about RTI, he said "has RTI given you something for your stomach to eat? The black money which has been stashed away, has it come back? In 2G scam, where have crores of rupees been gobbled up -- has that booty come back?

"Does anyone lock up coal ... This government loots coal. Shehzade RTI, please tell us who looted coal? People talk about looting of coal but he (Rahul) says please take RTI. They (Congress) make fun of poor people. They don't want to free the country from corruption. Shouldn't the black money be brought back to the country or not, Modi asked.
Accusing the UPA government of not showing interest in bringing back money stashed away overseas, he said "who is preventing from bringing back the black money? Why are they preventing it, because their black money is stashed away in foreign banks. Therefore, the black marketers are saying no to it."

Modi said UPA could neither provide employment to youth nor water to farmers.
He said farmers produce foodgrains but these were left rotting and the UPA government did not even implement the Supreme Court order to distribute it among the poor.
"Foodgrains were rotting. Rats were eating it... what they did thereafter? From the backdoor they sold the foodgrains to liqour-making companies for 80 paise per kilo. Is this not an insult to farmers and the poor"? he said.

Modi said the country needed such a government that no other country "dared" us. "If our government is weak, then the whole world will dare us. The government should be such that the world stops daring us and starts respecting us."

In his rally at Bagalkot, Modi exuded confidence about the BJP-led NDA crossing the 300-seat mark in Lok Sabha polls.
Modi claimed Congress was in the fear of losing election in the strong wave of BJP which only could provide a stable government.
© Copyright 2021 PTI. All rights reserved. Republication or redistribution of PTI content, including by framing or similar means, is expressly prohibited without the prior written consent.