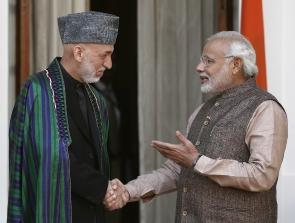 In his first bilateral meeting with international leaders after assuming charge, Prime Minister Narendra Modi on Tuesday held talks with Afghanistan President Hamid Karzai. The meeting with Karzai followed Modi's talks with Maldivian President Abdulla Yameen Abdul Gayoom at the ceremonial Hyderabad House in New Delhi.
In their more than half an hour meeting, Modi and Karzai discussed ways to enhance cooperation in the wake of North Atlantic Treaty Organisation combat troops withdrawal from the war-torn country.
Modi was assisted in the talks by External Affairs Minister Sushma Swaraj and Foreign Secretary Sujatha Singh among others. Both Karzai and Gayoom arrived on Monday along with other South Asian Association for Regional Cooperation heads of government and states to attend Modi's swearing-in ceremony at Rashtrapati Bhavan.
These two meetings will be followed by other bilateral including talks with Pakistan Prime Minister Nawaz Sharif and Sri Lankan President Mahinda Rajapaksa.
Image: Prime Minister Narendra Modi shakes hands with Afghanistan's President Hamid Karzai before start of their meeting in New Delhi. Photograph: Adnan Abidi/Reuters